Download our Digital Media Kit
Targeted Display Ads
Display ads go across all devices, appearing on websites or apps, using targeting strategies.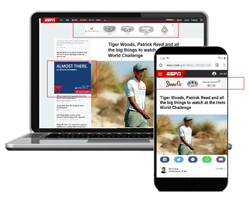 Target consumers based on a geographic area and layered with four different image targeting strategies: Behavioral, Artificial Intelligence (AI), Retargeting, and Keyword
Eye-catching and visually appealing
Pair with Radio, TV/Cable, PPC/Ad Words
Can help gain in-store sales, branding & awareness, website traffic, online sales, and B2B sales
Mobile ConquestingTM
Using location-based, demographic, and behavioral targeting to reach consumers with display and video ads on their mobile devices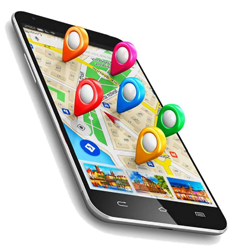 Can target both online and offline behaviors; a user doesn't have to have GPS on for ad to be served, just has to be in/on the app or mobile website
Target in real-time while consumers are at competitors, businesses, or specific locations or events, then continue to target after leaving the location as well as target the neighborhoods
Ads can be served when a weather condition you've selected happens or is forecasted; partnered by Weatherbug
Target people from a list you have of home addresses and serve ads to them when they are at that address, continue to follow those people after they leave, and show them your ads
Pair with direct mail, outdoor, TV/Cable, trade shows, and other events
Can help gain in-store sales, branding & awareness, promoting event attendance
Facebook & Instagram
Showing your display or video ads across all devices on Facebook and Instagram and on any of the Facebook advertising platforms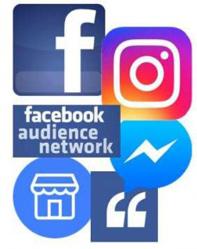 Track View Throughs (people who see ad-don't click-visit your site later) & Conversions
We can retarget people from your website & follow them onto Facebook/Instagram and show them your ad
Take your email addresses, phone numbers, and names/zip codes of customers or prospects, match them to their active Facebook/Instagram account and then serve them your ads on their Facebook/Instagram page; can also use these lists to find people with similar characteristics & target those people with your ads
Offer both Facebook and Instagram targeting and detailed monthly reports that also show any other digital advertising products you are running with us
Managing a campaign effectively is time-consuming as bids have to be managed carefully & continually
Pair with email marketing TV/cable and any trade shows other events.
Can help with leads/form fill-out on websites, requests for more info/schedule appts, online sales, recruitment, app downloads & promoting event attendance.
Native Targeted Ads
Native display or video ads go across all devices and match the look, feel, and context of the website or app where they are seen, using targeting strategies.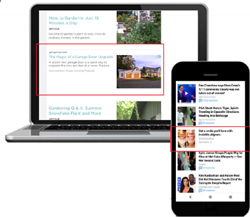 People see banner display ads, but they read Native ads because they are embedded in context, which requires using both hemispheres of the brain
results in higher engagement, recall, and influence
Created in real-time to match the format of where its appearing
Gets 300x more of consumer's attention than processing regular display ad
Various targeting strategies to find the fit for your needs and consumers you want
Pair with radio, email, TV/cable, PPC/ad words, and banner ads
Can help with in-store sales, leads/form fill out on website, branding & awareness, website traffic, online sales, and B2B sales
Video Ads
Video ads go across all devices, appearing on websites or apps, using targeting strategies for Pre-Roll and Over-The-Top (OTT) content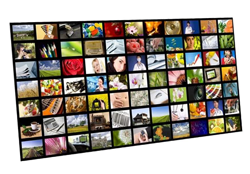 You can target your most important consumers while they stream programming in a way never before possible with traditional TV using behavioral targeting and AI
OTT can be watched on any type of internet-connected device including Roku, Connected TV/SmartTVs, Fire TV Sticks, XBOX, PlayStation, AppleTV, Chromecast, and more.
Have Access to thousands of publishers including Sling TV, Fubo.TV, Pluto.TV and channels like A&E, Discovery, ESPN, FOX, NBA, NBC, Syfy, CNN, and Food Network.
52% of adults over 18 use at least one OTT service
With video pre-roll, you are reaching people who go to webpages and apps that feature your keywords and serving them your video ad.
Pair with radio, TV/cable
Can help with branding & awareness, and B2B sales
On-Line Audio
Audio ads served to targeted online listeners who are consuming audio content across all types of devices including smart speakers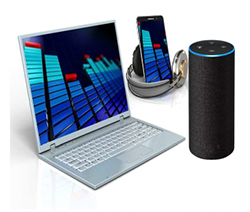 Ads are unskippable and can be heard on desktop, tablet, mobile, and smart speakers; ads plays in online content such as music, podcasts, and sporting events that users listen to on their devices
Your :15 up to :30 audio ad plays in online content such as music, podcasts, and sporting events that users listen to on their devices
On some platforms, your audio ad will be served along with a companion display ad at no additional cost
Your online audio ads run across major streaming services such as Spotify, TuneIn, Soundcloud, and many more
Pair with radio
Can help with branding & awareness
Amazon Targeting
You can use Amazon targeting to reach people with your display, video, or OTT ads on amazon.com, Amazon-owned properties, and thousands of other websites and apps Amazon has partnered with, across all devices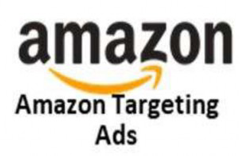 Amazon has massive data accumulated about its users which we can use to target your ads both on and off Amazon
Ads used will appear and run on amazon.com, imdb.com, IMDb TV, Fire TV, and over 5,000 Amazon Publishers including USA Today, NBA.com, HGTV, and Forbes.
50% of US Internet users start product searches on Amazon compared to 35% on Google.
Amazon offers a unique product offering particularly for automotive dealerships, through Amazon Vehicles and Amazon Garage
Pair with direct mail, radio, or email
Can help with in-store sales, branding & awareness, and website traffic
Geo Framing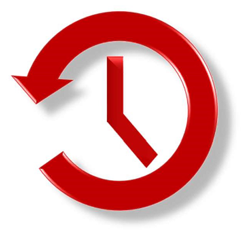 Geo-Framing goes back in time to previous events where we have can capture people's mobile device ids, mapping those to their homes, and showing them ads now
Allows for geo-fencing, geo-retargeting, geo-retargeting lookalike, and geo-framing to show your ad to a variety of target consumers at locations and continue after they leave
It works across all devices, not just mobile phones
Branding & awareness, and ideal for an add-on to radio advertising, as integrating these mediums can result in nearly 4x brand awareness
Household IP Targeting
Household IP Targeting is taking your list of household addresses and finding their IP addresses and showing your display, native, or video ad only to those people, across all devices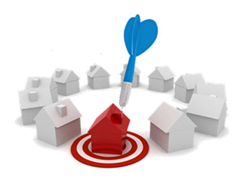 You can target any data list you have (current, past, or lead list) or purchase a data list from a direct mail vendor
You are able to reach a household 25-50 times a month with IP Targeting!
You are provided with a "match back" report showing how many customers were from the IP targeted ads.
Extremely cost-efficient
The ads will not get blocked
Pair (or replace) with direct mail, trade shows, or other events
Can help with in-store sales
Some examples of ideal industries: insurance companies, auto dealers, colleges and universities, medical practices, business to business, financial institutions, politicians and health-care
Live Chat
Trained agents with knowledge of your company get lead information, where you will be emailed with the real-time, full transcription of the chat or text conversation.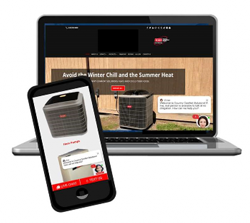 You can get more leads by engaging your prospects with a chat box and text-to-chat on your website
Capture lead information – 42% of chat leads are outside of normal business hours
Helping with leads/form fill out on websites, phone calls, requests for more info or to schedule appts and B2B sales
Pay Per Click (PPC)
Showing your text ads on the Google Search Engine Results page when a user searches keywords related to your business, across all devices.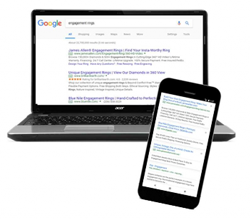 We focus on getting as many clicks and conversions as we can until we earn the spots in the top four of a page/bottom three of a page
Monthly reports to show you your ROI
Getting to the top of the page quickly, increased website traffic and immediate impact
Search Engine Optimization (SEO)
SEO is the practice of improving and promoting a website to increase the number of visitors the site receives from search engines.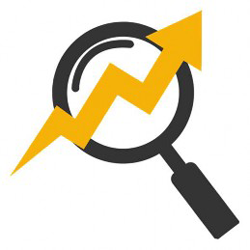 The online reputation management platform is a great tool that allows clients to manage their business' online presence all from one software program
Updates every 24 hours for review of information program finds
The ideal consumer won't look past the first five search results; optimize to get better results and higher recall of your brand
A custom-quoted, handcrafted SEO strategy is based on the overall website needs, current rank, competition, and market
Helping gain more website traffic, brand credibility, and awareness
Email Marketing
Permission-based, highly targeted email marketing campaigns that deliver results!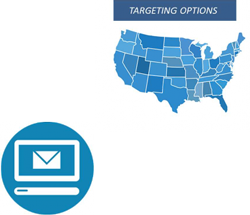 Target any data list you have and use targeted list.
Target by age, gender, presence of children, household income, net worth, homeowners, home value, And more!
Fast, efficient, and cost-effective
Measurable, real-time results
Higher click-through
Quick turn around times
Helping gain more website traffic, brand credibility, and awareness
OPT-IN EMAIL DATABASE: Comprised of over 120 million records and nearly 750 available demographic and lifestyle selects. Your exact target will be reached with accuracy, as your message is delivered.
IN-DEPTH REPORTING: Our in-depth tracking shows you open and click percentages, clicks broken out by mobile vs. desktop and web browser – helping you analyze results and engagement.
100% CAN-SPAM COMPLIANT: Create custom lists tailored to your product or service, ensuring the correct audience receives your message.
Digital Glossary
Behavioral Targeting: Showing ads to specific consumers based on their previous online behavior
Keyword Targeting: Showing ads on webpages and apps that contain keywords related to your business
Retargeting: Following people after they leave your website and showing them your display ad, on other websites and apps they go to, across all devices
Artificial Intelligence (AI): Showing ads to people using machine learning to target consumers based on who is engaging with the ad
CTR: The ratio of users who click on a specific link to the number of total users who view a page, email, or advertisement. National CTR is 0.07%
View Through: measures the number of post-impression response or view-through from display media impressions viewed during and following an online advertising campaign
Conversion: Occurs when a visitor to your website completes a desired goal, such as filling out a form or making a purchase. The percentage of total visitors that convert is called your conversion rate.
Frequency Caps: If someone is shown the ad a certain amount of times without coming back to the client's website, we stop showing it to that person so we don't waste impressions.
Conversion Tags: Once a person has converted (done what the client wants the user to do on the website i.e., fill out a form of click to a certain page, we use a conversion tag and stop showing them the ad
Geo-Fencing: Target people in real-time while at your competitors, businesses, or specific locations or events
Geo Retargeting: Continue to target people after they leave the locations we are geo-fencing
Geo Lookalike: Continue to target people after they leave the locations we are geo-fencing and target those people's neighborhoods
OTT: Over-the-top media service is a streaming media service offered directly to viewers via the Internet
---
Contact Us
Get a fast and free price quote, request a call to run through our current specials, request a 1:1 analysis so we can customize the most cost-effective plan for your needs, or submit a PSA. Our marketing managers, advertising specialists and creative team are here to help.