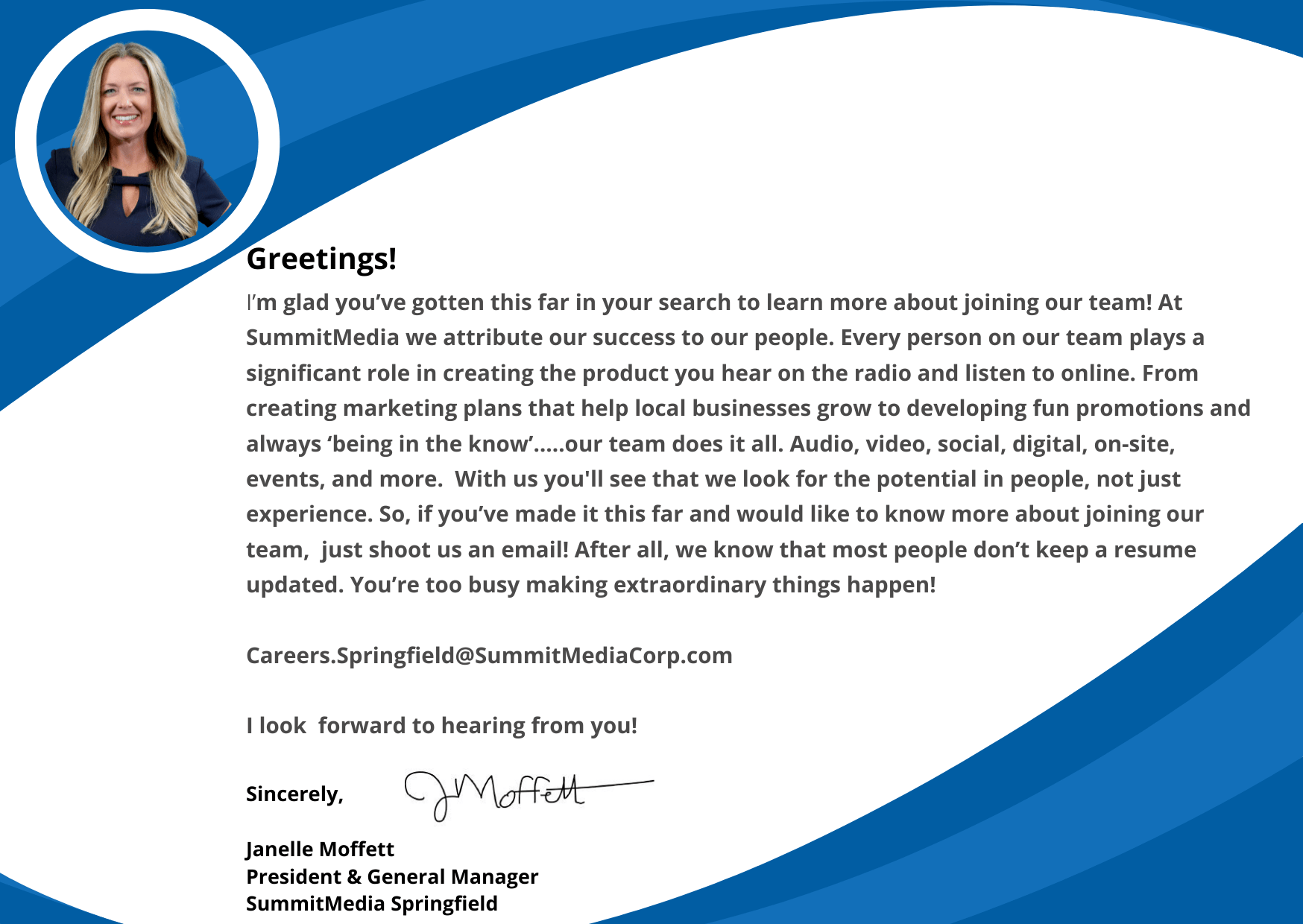 Marketing Strategy Lead
Marketing Strategy Lead
Do you understand the business to business sales process?  Can you build relationships with business owners and successfully create a desire for them to do business with you?  Do you have a passion for helping companies grow?  Do you want to be a part of a team that cares about doing the right things for our community?
SummitMedia in Springfield, MO is looking for an enthusiastic and highly motivated Marketing Strategy Lead to sell radio and digital advertising to local businesses and advertising agencies.
We are looking for someone who will work hard and stay focused and positive when things get tough. We want someone who has a desire to grow in his or her career by putting in the long term consistent effort and training to be successful. There are no short cuts with this job. The smarter you work, and the more businesses you can build strong relationships with, the more money you will make. If this sounds like you, and you're ready to work for a company that is growing exceedingly fast and features a close-knit encouraging team environment, plus has a no cap compensation plan for driven and competitive people, then let's talk.
Expectations:
Meet and exceed monthly, quarterly and yearly revenue goals by selling radio and digital advertising solutions to businesses. Our sales staff is expected to build lasting relationships and develop long-term, results-driven advertising plans for our clients.
Seek out new leads and prospects weekly through research, networking and referrals.
Contact business owners with a valid business reason and secure face to face appointments with new prospects each week.
Conduct needs analysis meetings with new potential clients on a daily basis, to truly seek to understand the business and what it will take for that business to grow.
Use information from needs analysis meetings to produce customized advertising proposals for these prospects.
Have strong presentation skills and be able to guide potential clients through the plan to an agreed upon contract.
Attend and contribute to weekly sales meetings and one on one meetings with General Sales Manager.
Maintain accurate records of all sales calls, meetings, presentations and proposals, using our CRM software.
Requirements:
Relationship management skills with clients and team members, and openness to continuously improve through feedback.
Maintain a professional sales appearance as you are a representation of the company.
Must have excellent time management and organizational skills.
Business to business sales experience is preferred, but not required. College degree or an equivalent combination of education and experience is also preferred.
A current, valid driver's license and excellent driving history required.
Essential attributes:
Passionate for sales and self-motivated. A strong desire to help businesses grow. Creativity and ability to change with our industry are also keys to success. Strong communication and customer service skills are needed along with strong organizational skills and the ability to work effectively in a fast-paced environment.
About SummitMedia Springfield
Media continues to evolve, and SummitMedia Springfield strives to be a leader of industry change by seizing opportunities and investing in the future.  In pursuit of this mission, SummitMedia Springfield employees are its most valuable asset, and the company seeks to attract and retain highly skilled and motivated individuals. SummitMedia Springfield strives to provide solutions for clients looking to grow their business, utilizing its marketing expertise in combination with its distribution platforms, including over its airwaves, online and any future media that may come into existence.
It is the policy of SummitMedia LLC to provide equal employment opportunity to all qualified individuals without regard to their race, color, religion, national origin, age or sex in all personnel actions including recruitment, evaluation, selection, promotion, compensation, training, and termination.  Discrimination because of race, color, religion, national origin, age or sex is prohibited. If you believe you have been the victim of discrimination, you may notify the Federal Communications Commission, the Equal Employment Opportunity Commission, or other appropriate agency.
Resumes can be sent to careers.springfield@summitmediacorp.com