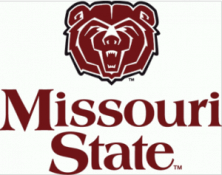 (Press Release) FORT MYERS, Fla. – The 24th-ranked Missouri State Lady Bears led by 36 points in the first half and cruised to a 74-49 victory at preseason Atlantic Sun Conference favorite Florida Gulf Coast on Friday evening in the Gulf Coast Showcase at FGCU's Alico Arena.
Starting the season ranked in the top 25 for the first time in 20 years, the Lady Bears (1-0) led 49-13 late in the first half, shooting 58 percent in the opening 20 minutes and getting double-figure scoring efforts from Abby Hipp (13), Abi Jackson (12), Sydney Wilson (11) and Brice Calip (10), who became the 29th player in school history to score 1,000 career points in the second half.
Missouri State dominated 58-33 on the glass, with eight players grabbing four or more rebounds, led by Emily Gartner with eight and a career-high seven from Mya Bhinhar.
FGCU (1-1), which received votes in the preseason USA Today Coaches Poll after going 30-3 and leading the nation in made 3-pointers last season, hoisted an MSU opponent-record 45 attempts from beyond the arc but only connected on six, shooting 13 percent from distance and 23 percent overall for its lowest scoring output since December 2018.
The Lady Bears led 13-2 in less than four minutes and 29-6 early in the second quarter after a 16-0 run, and Jasmine Franklin scored to end an 18-2 spurt for a 49-13 edge with 3:33 left in the first half. MSU was plus-18 on the glass in the opening 20 minutes, while FGCU missed its first 18 3-point attempts in the contest.
Calip scored her 1,000th career point on MSU's first offensive possession of the second half, and the Eagles got as close as 17 points early in the fourth quarter. No Lady Bear played more than 25 minutes and all 13 on the roster entered the game before halftime.
Missouri State shot 45 percent in the game, Bhinhar dished out five of MSU's 19 assists, and Elle Ruffridge tied a career high with three steals.
The Lady Bears take on Maryland in a top-25 matchup at 4:30 p.m. Central Saturday. The No. 11/12 Terrapins beat Davidson 94-72 Friday afternoon.