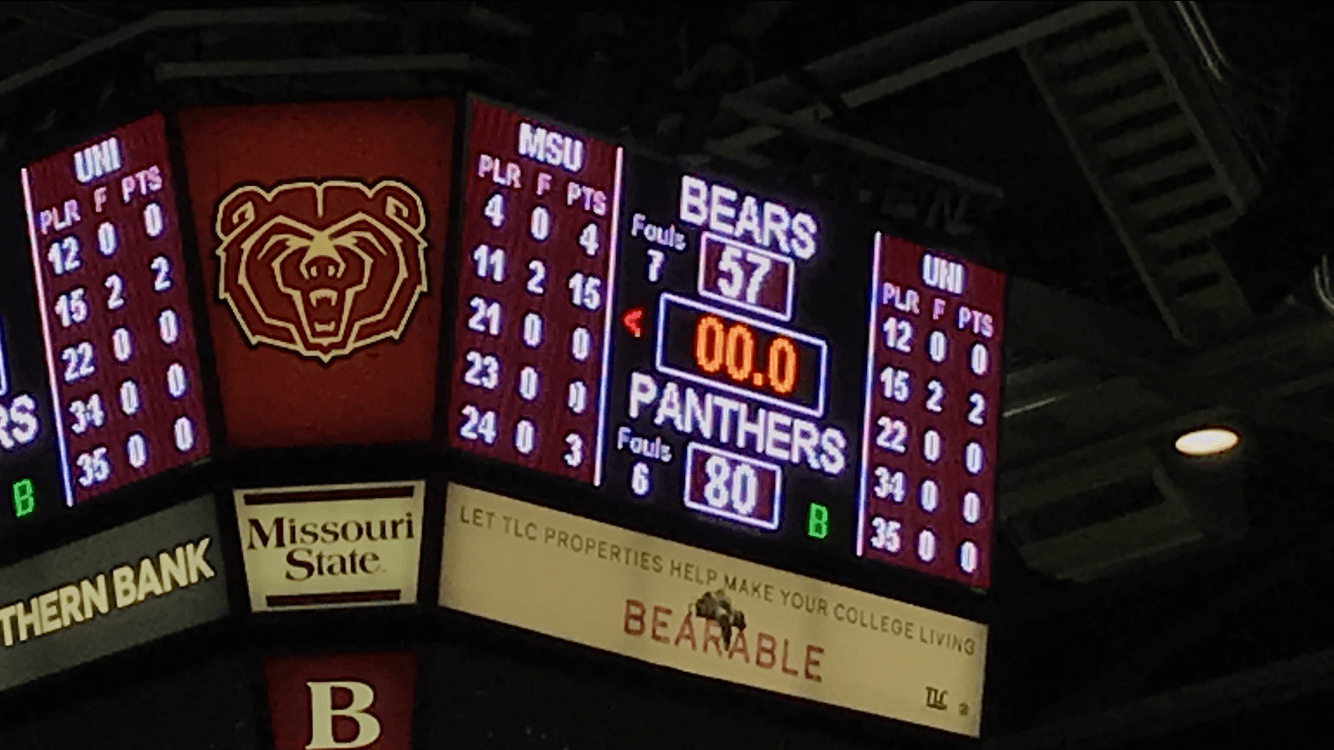 The Northern Iowa Panthers drained 13 three pointers on the way to an 80-57 blowout win over the Missouri State Bears Saturday afternoon at JQH Arena.
The Panthers' A.J. Green set the stage just 14 seconds into the contest when he hit the first of his six treys.
Missouri State never had the lead, dropping to 8-9 overall and 2-2 in the Missouri Valley Conference.
The Panthers jumped ahead 26-6 nine minutes into the game as Green and Isaiah kept draining shots from beyond the arc, along with Spencer Haldeman.
UNI (14-2, 3-1) took a 48-28 lead into the locker room at the half.
MSU clawed back within 16 when Tulio Da Silva's free throw made it a 49-33 game with 17:33 left in regulation, but UNI quickly had the lead back up to 20.
The Panthers extended their advantage to as many as 34 points midway through the second half as many of the 3,520 fans who braved a cold and snowy Saturday headed for the exits.
Bears Coach Dana Ford talked to the media after his team's frustrating loss:
Northern Iowa drained 30 of 56 shots from the field (54%), while hitting 59% of its three point attempts (13-22).
The Bears shot 36%, and made only four of 14 three pointers, with three of those treys coming from freshman Isiaih Mosley.
Mosley led the Bears with 15 points, while Tulio Da Silva finished with 13.
Green's 28 points were tops for UNI, with Brown adding 19.
UNI won the battle of the board 38-29, while both teams made seven free throws.
The Bears committed a season low five turnovers.
Missouri State will be back in action Wednesday night when they take on the Bradley Braves at JQH Arena.
Tip-off is set for 7:00 p.m.
Game Notes: 
Northern Iowa improves to 9-3 all-time at JQH Arena, and is the only Valley team with a winning record at The Q.
Mosley has scored in double figures in six straight games.
Dana Ford's record at MSU is now 24-25.

Northern Iowa Panthers vs. MSU Bears 1-11-20