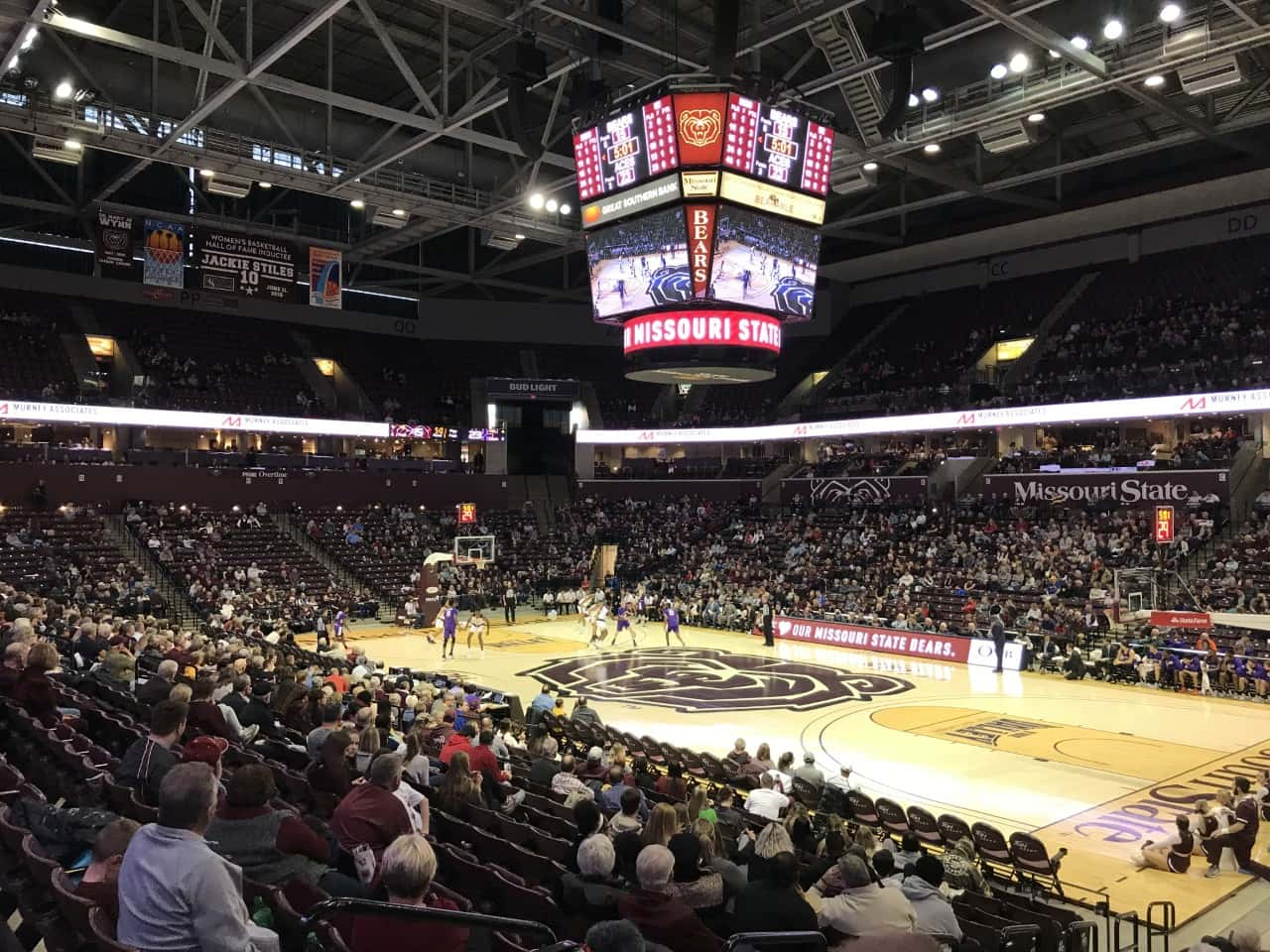 The Missouri State Bears overcome a 13 point first half deficit to defeat the Evansville Purple Aces 65-52 Tuesday afternoon in the Missouri Valley Conference opener at JQH Arena.
And it was a classic "tale of two halves."
Evansville (9-5, 0-1) took a 30-17 lead with 2:23 left in the first half, but a three pointer by Isiah Mosley and a quick steal by Tyrik Dixon off the inbound pass underneath the basket got the Bears within eight.
The Aces led 31-23 at the half, but MSU went on a 13-2 run to start the second half to take a 36-33 lead.
Evansville tied the game 36-36 on Sam Cunliffe's three pointer, but Tulio Da Silva's dunk put the Bears back in front 38-36 with 11:41 remaining.
The Bears (7-7, 1-0) never lost the lead, extending it to double digits on two Lamont West free throws with 7:50 remaining.
Tulio Da Silva scored 14 points to lead three Bears in double figure scoring. West and Mosley added 13 points each.
Cunliffe scored 13 to lead Evansville.
Missouri State went into halftime with ten turnovers on the stat sheet, but finished the game with 12.
MSU shot 59% from the field in the second half, while the Aces made only 37% of their shots for the game.
The Bears out-rebounded Evansville 37-29 and made nine of 13 free throw attempts.
Evansville never could get things going from the three point line, making only three of 22 attempts from behind the arc.
Missouri State went 6-16 from the three point line.
Bears Coach Dana Ford talked to the media after the game, saying he's proud of his players.
Game Notes: 
The Bears improve to 19-11 all-time in Valley openers and and 26-4 in MVC home openers.
MSU has out-rebounded 11 of 14 opponents this season.
Missouri State came into Tuesday's play second among Valley teams with a .739 team free throw percentage.
Tuesday's announced attendance was 4,206. The Bears had a women's/men's doubleheader, where fans who bought a ticket for either game could watch the other game for the same admission.
Evansville at MSU Bears 12-31-19