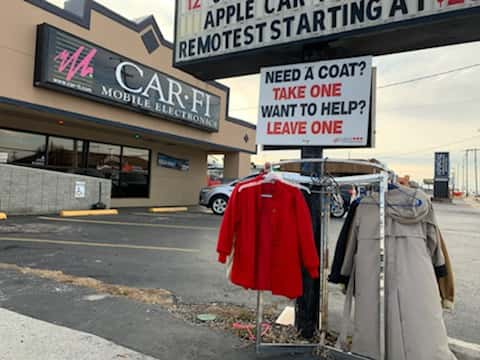 "Need a coat? Take one. Want to help? Leave one." Each day, about 30,000 drivers pass by the sign outside of CarFi along Glenstone in Springfield.
The idea is simple. Donate a coat by hanging it on the rack so those walking by on cold days can bundle up.
The thought came from Rick Snelson and Reba Brew Snelson to help homeless and others in need in their neighborhood.
Reba says three years ago they had the sign made, bought some coats at the thrift store, and waited to see what would happen.
"It's pretty much become self sustaining. I think if you're doing something that's good and positive, it will prosper."
And it has prospered. Reba says those who donate easily provide over 5,000 coats to people walking by each season.
"We have a lot of people who are walking the streets that may just be temporarily without a home, some are homeless, some just need a little help. We see so many people that are going to the blood bank, staying at a hotel down the street, riding bicycles, and also getting off the buses."
The best part? Reba says it's the fact that it provides immediate help to people 24/7.
"You have a lot of organizations in town, which are all wonderful, but a lot of them close at 5 p.m."
It's also more convenient for those donating. The rack makes to possible for people to drop off items without having to worry about going to a certain place at a certain time.
CarFi has also invested in a "Street Aid Van," so staff can provide more high-demand items, like socks, hats, gloves and backpacks. During cold and rainy days, Brew says she parks it out front with the trunk open to offer those walking by anything they're in need of.
And because of the community's support, other businesses have started finding their own ways to help out.
"We have several other local businesses that are joining in and doing drives. One of them is Piano Craft, so they've been bringing in things."
Two other businesses, Affordable Autos on Kearney and Art's Subs in Nixa, have also taken up the torch to have their own 'take a coat, leave a coat' rack outside of their storefronts.
"They saw what we were doing and they called me and said 'Hey do you mind if we do the same thing use the same sign' and we're all about that. Any other business that can do it would be wonderful."
Brew also says they've partnered with Kyla's Kloset, a thrift store and outreach center at the Connecting Grounds in Springfield, donating extra clothes that don't fit on the rack.
"We're kind of all helping each other."
Brew says anyone is welcome to donate coats just by stopping by and placing them on the rack. Or, if you're needing a little help this holiday season, feel free to take one for yourself.