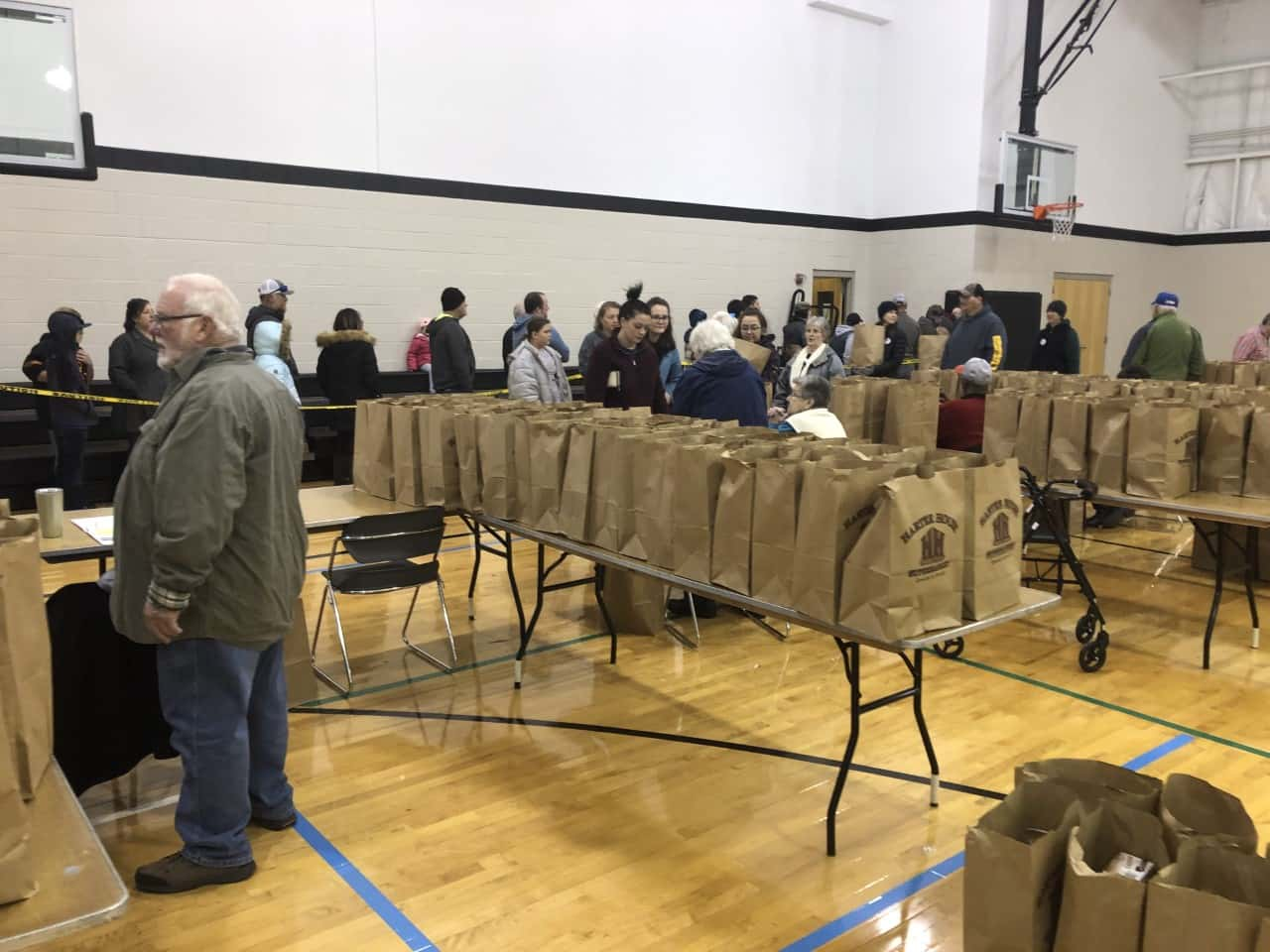 Volunteers with Crosslines and Victory Mission are handing out food baskets to nearly 1,500 families in Greene County this Saturday.
The more than 1,100 families who signed up with Crosslines can pick up their baskets from 9 until 2 this afternoon at Central Assembly Church on North Campbell.
Meanwhile, Victory Mission volunteers will be going door to door passing out baskets to about 300 families today.
Victory Mission will also be hosting community dinners on Thanksgiving at a number of local churches.
More information on holiday food baskets provided by Crosslines:
Crosslines volunteers are ready to provide Thanksgiving food baskets for over 1,100 Greene County families. This annual event is a time for families from our community to come together to serve and ensure that families throughout the Ozarks can have one less worry as the holiday season begins – food for their family on Thanksgiving. The distribution brings together hundreds of volunteers from area churches, schools, and businesses gathering together to give back to our community.
"In all of our lives, there are times when we need a hand up. I'm grateful to the donors and volunteers that believe in helping people. Without the churches, volunteers, and donors, we couldn't make this happen each year," stated Tom Faulkner, Director of Crosslines.
The distribution will be held Saturday, November 23rd at Central Assembly Church—Activity Center, located at 1320 N. Campbell Avenue in Springfield, from 9 a.m. – 2 p.m. Volunteers will gather from a variety of churches, organizations and schools to assemble the food baskets and distribute the baskets. Each "basket" contains enough food for a nutritious holiday meal (including a traditional Thanksgiving meal with turkey or ham, stuffing, cranberry sauce, corn, green beans, milk, bread and desserts), breakfast and a snack for everyone in the household. On average, it costs $35 to provide a food basket for a family.
The funds to provide these meals are provided through generous donations made by people in our community. Donations to assist families through Crosslines can be made online at crosslines.org or via mail at PO Box 3947, Springfield, MO 65808.
More information on holiday food baskets and community dinners provided by Victory Mission:
Victory Mission volunteers will be knocking on doors around Springfield this Saturday, November 23, to deliver close to 300 Thanksgiving food baskets to needy families.
A group of volunteers will pack the baskets on Friday. On Saturday, about 100 volunteers will pick up the food baskets from the Distribution Center, 700 W Chase St. beginning at 9:00 a.m., and personally deliver them to recipients' homes.  FedEx is among the corporate drivers who plan on coming out and delivering baskets to families as well.
Last year, Victory added another component to feeding the community and intend to do the same this year to provide catered Thanksgiving meals to neighborhood churches and host a community dinner for the holidays. This enables Victory and the neighborhood to feed more people and have the community sit at the table together.
Last year Victory served around 920 people with the baskets handed out directly through Victory Mission. When the community dinners that were actually served were factored in, they estimated that Victory partners provided Thanksgiving dinners for over 2,200 people.
Jason Hynson, Executive Director, Victory Mission said, "If more communities and neighborhoods ate together, maybe God's love would shine through more brightly!"
To find out about more serving and giving opportunities through Victory Mission, go here: www.victorymission.com.

PHOTO GALLERY: Crosslines Volunteers Provide Thanksgiving Food Baskets To Local Families