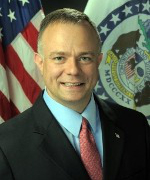 Greene County Clerk Shane Schoeller expects only about eight in 100 eligible voters to cast a ballot in Tuesday's election for the city of Springfield and Walnut Grove schools.
Schoeller says walk-in traffic for absentee voting ahead of the election has been fairly minimal.
The clerk says there are now four central polling locations in Springfield to make it easier to cast a ballot.
One was recently added at Mercy Hospital.
Others are at Cox South Hospital, the C-U Transit Center and the MSU Davis-Harrington Welcome Center.