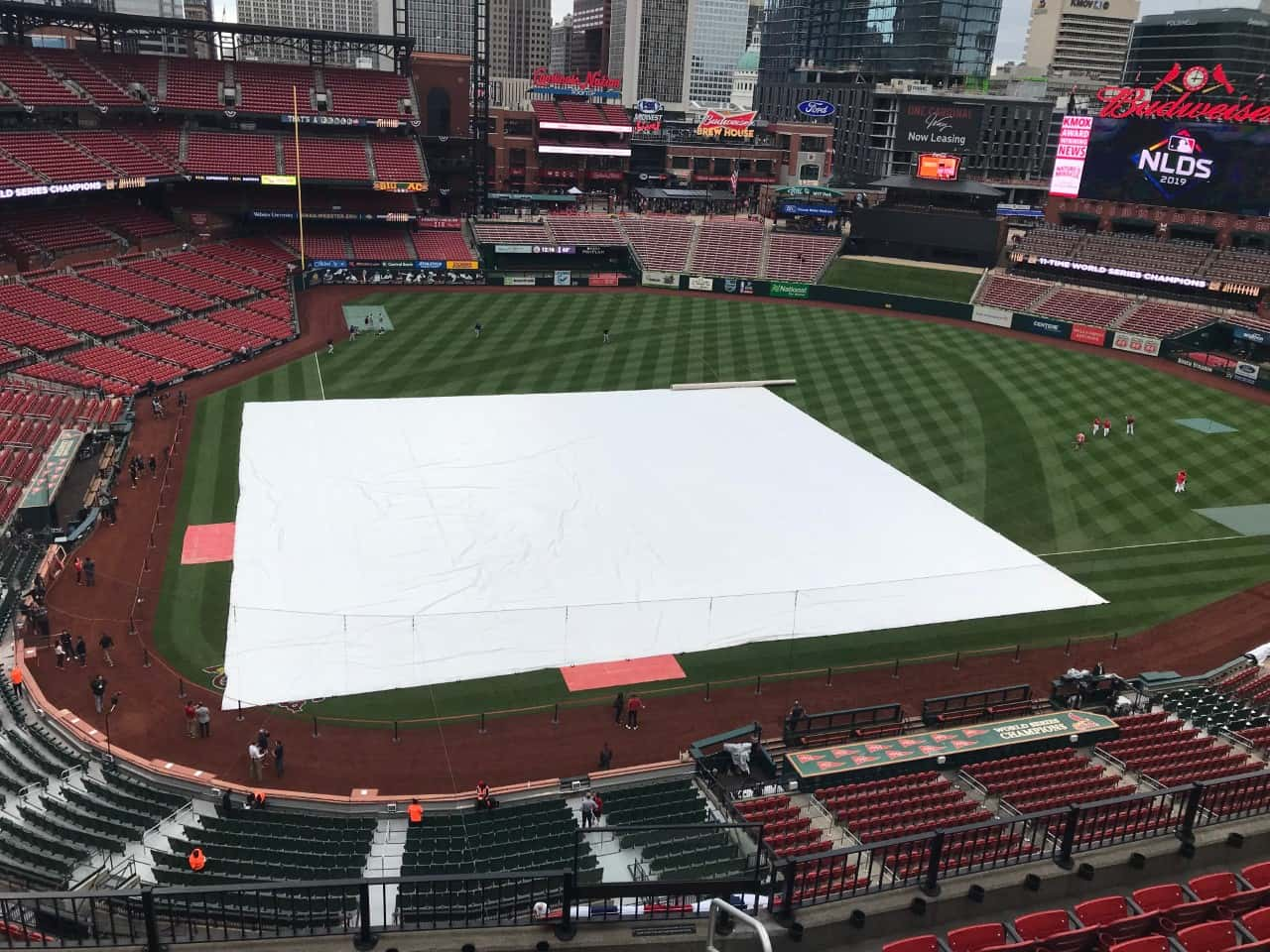 After a four year absence, the playoffs are back at Busch Stadium in St. Louis as the Cardinals take on the Atlanta Braves Sunday afternoon in Game Three of the National League Division Series.
Temperatures are in the mid 60's with cloudy skies and the tarp on the field light rain falling downtown.
After a 7-6 win in Atlanta to open the series, St. Louis was shutout by Braves 3-0 in Game Two.
The winner of Sunday's game will have a chance to clinch the series on Monday in with the best of five format.
Veteran hurler Adam Wainwright (14-10, 4.09 ERA) takes the mound for St. Louis, and he'l in Game Three, and he'll be opposed by the Braves' Mike Soroka (13-4, 2.68 ERA).
Here are the starting lineups for Sunday's game:
Atlanta Braves:
Ronald Acuna, Jr. —cf
Ozzie Albies—2b
Freddie Freeman—1b
Josh Donaldson—3b
Nick Markakis—lf
Matt Joyce—rf
Brian McCann—c
Dansby Swanson—ss
Mike Soroka—p
St. Louis Cardinals: 
Dexter Fowler—cf
Kolten Wong—2b
Paul Goldschmidt—1b
Marcell Ozuna—lf
Yadier Molina—c
Matt Carpenter—3b
Tommy Edman—rf
Paul DeJong—ss
Adam Wainwright—p
We'll have complete postgame coverage on KTTS.com, with a game recap, reaction from the Cardinals clubhouse, and photos from the ballpark.

Atlanta at St. Louis Game 3 NLDS 10-6-19