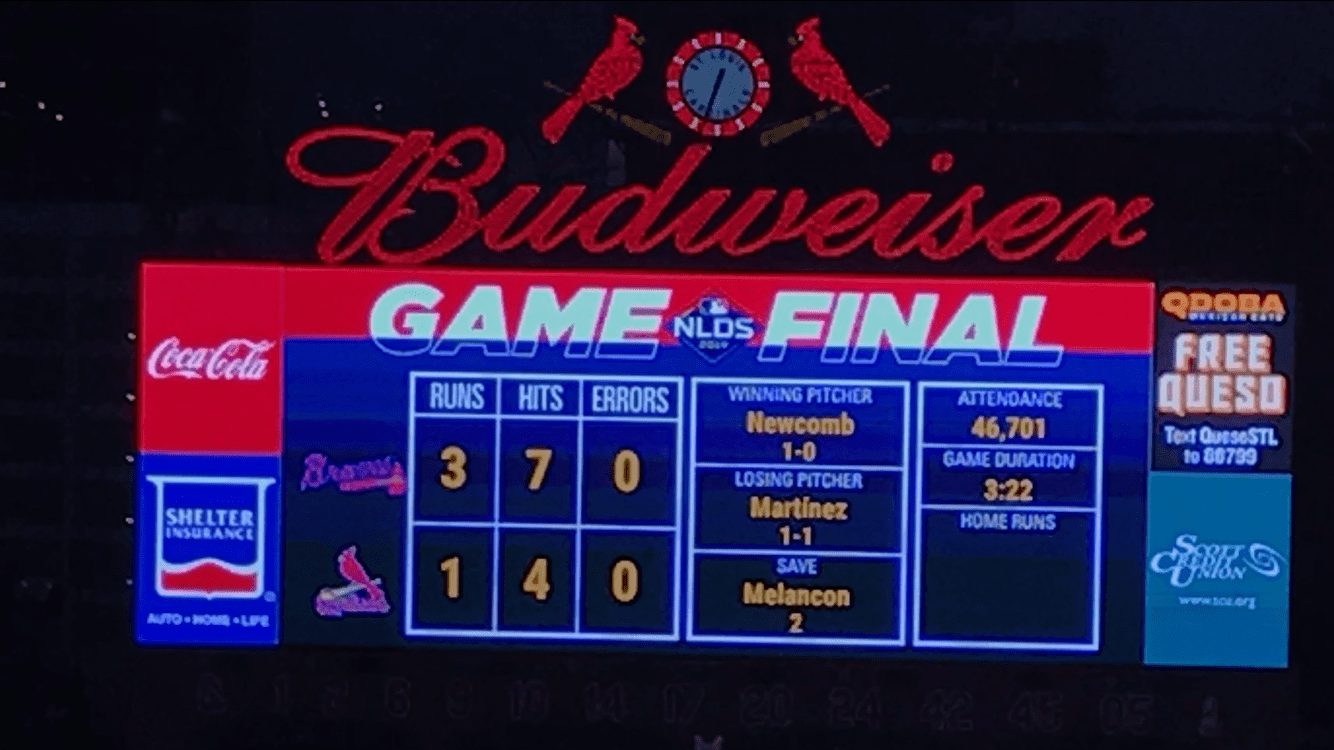 The St. Louis Cardinals came within one out of a win, then watched the Atlanta Braves put three runs on the board in the ninth inning.
The Braves defeat the Cards 3-1 in Game 3 of the National League Division Series Sunday at Busch Stadium, taking a 2-1 lead in the best of five matchup.
Closer Carlos Martinez (1-1) got the ball to start the ninth after Adam Wainwright went 7 2/3 brilliant innings, allowing four hits and striking out eight.
The Cardinals got one run on the board in the second inning on Matt Carpenter's sacrifice fly, scoring Marcell Ozuna, who led off the inning with a double.
It stayed a 1-0 game into the final inning.
Second baseman Josh Donaldson led off the ninth with a double down the line in left field, but then Martinez brought the sellout crowd of 46,701 to its feet by striking out Nick Markakis and pinch hitter Adeiny Hechavarria.
After Martinez intentionally walked catcher Brian McCann, Dansby Swanson doubled to left, scoring pinch runner Billy Hamilton with the tying run, making it a 2-2 game.
Cards Manager Mike Shildt stayed with Martinez, who promptly gave up a two run single to Adam Duvall, stunning the fans.
The once loud crowd managed few cheers in the bottom of the ninth, even as Paul Goldschmidt doubled with one out, bringing the potential tying run to the plate.
But Braves closer Mark Melancon struck out Marcell Ozuna and got Yadier Molina to line to center to end the contest, picking up his second save of the series.
Sean Newcomb (1-0) picks up the win in relief for Atlanta.
The defeat spoiled a vintage pitching effort by Wainwright, who says he felt strong on the mound "I made some good pitches. I executed well all day," Wainwright said. "Their guys are very, very, very tough. It's a tough lineup. Very deep."
The veteran righthander says this isn't the first time the Cards have had their backs against the wall in the postseason. "We were down 2-1 in Pittsburgh and Michael Wacha went out and pitched a great game, got us to game five, and we won a game five. That's what I'm expecting our other young stud, Dakota Hudson, to do tomorrow."
Shildt says he didn't hesitate to use his closer in the ninth. "If you look at it, he's bent, but he hasn't broke a lot. He's been really, really good a lot," Shildt said. "You look at his numbers. One of the big reasons that I'm sitting here and we're playing, is Carlos Martinez and the job he did coming in for Jordan (Hicks). We didn't miss a beat. He's been outstanding in that role.
The Cardinals will fight to stay alive when they send Hudson (16-7, 3.35 ERA) to the mound in Game 4 on Monday.
First pitch is set for 2:07 p.m. at Busch Stadium.
Game Notes:
Wainwright made his 25th appearance career postseason appearance Sunday, marking the most by any pitcher in Cardinals history, breaking a tie with Lance Lynn (24).
Ozuna became the second Cardinals player to have three straight multi-hit games in his first three Cardinals postseason game (Jim Edmonds did it in four straight games in 2000).
Martinez suffered a blown postseason save in his first career save opportunity. It was the Cards' first blown save in the postseason since the 2013 World Series Game 3 vs. Boston, a 5-4 loss.
St. Louis falls to 37-20 in National League Division Series games.
Atlanta Braves at St. Louis Cardinals Game 1 NLDS 10-6-19