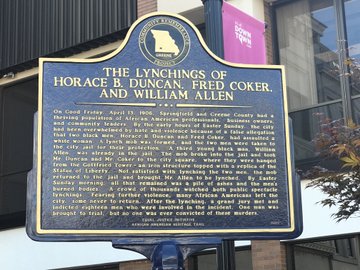 A community remembrance event held today commemorated the racist lynching of three black men in Springfield in 1906. Springfield public schools also competed in an Equal Justice Essay Contest as a component of the event. Mayor Ken McClure says that he hopes the event will encourage reconciliation and healing.
The marker records the lynching of Horace Duncan, and Fred Coker, who were arrested for rape and then released and then were re-arrested. They were kidnapped from jail by a mob and then hanged with another black man named William Allen, who had no connection to the other two.
Dr. Lyle Foster, an Associate Professor at Missouri State Department of Sociology, said that the lynching took place beneath a replica of Statue of Liberty. Parts of the bodies of the three men were gathered as souvenirs and and postcards were made to commemorate the event.
The event caused black Americans to flee the area, dropping to 1% of the population. The city used to be home to many black innovators, including the owners of the then-largest grocery store in the city, the mechanic who made the first automobile in Springfield, and Joe Armstrong, one of the first African-Americans on the police force.