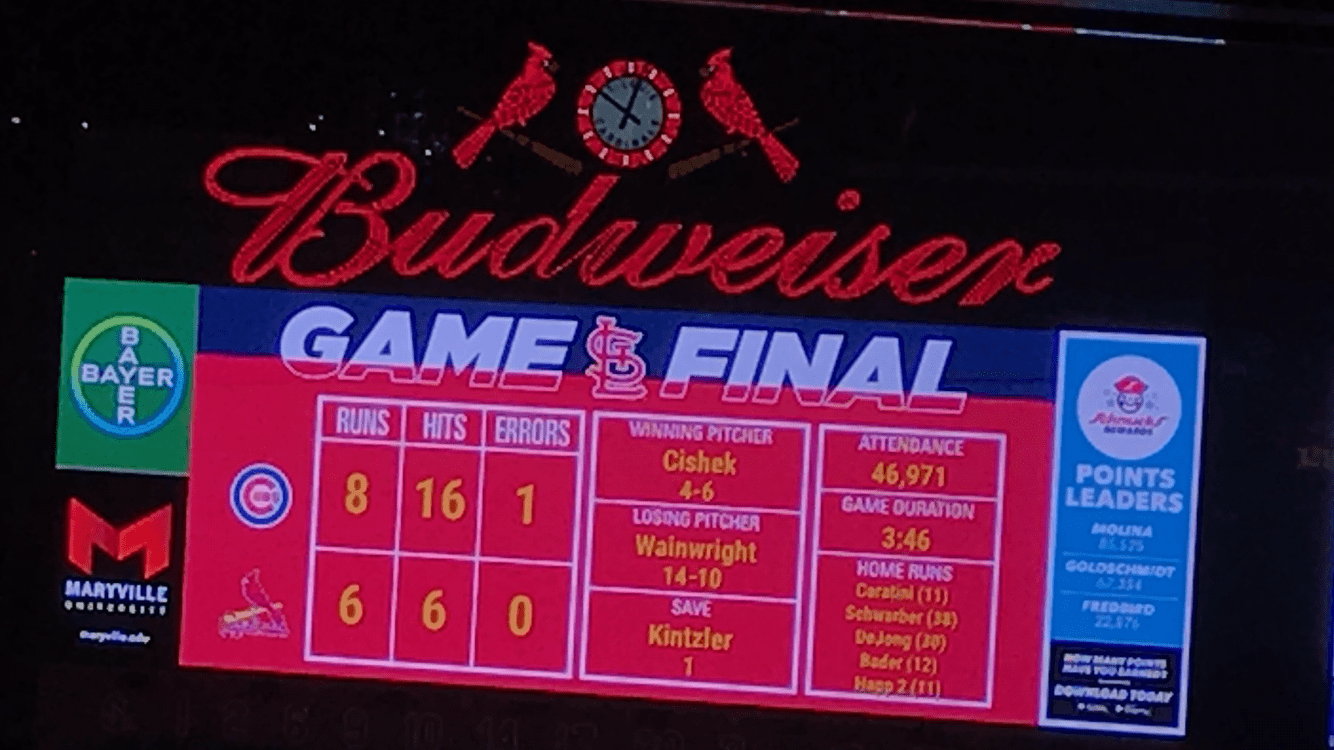 The St. Louis Cardinals enter the final day of the baseball season in control of their own destiny: a win over the Cubs or a Brewers loss at Colorado will give the Cards their first National League Central Division title since 2015.
They're hardly on a roll going in, losing to the Chicago Cubs 8-6 Saturday night at Busch Stadium.
It's the fourth straight loss for the Cardinals, who cling to a one game lead over Milwaukee through 161 games.
The Brewers were one out away from a win when Sam Hilliard homered off Milwaukee closer Josh Hader in the bottom of the ninth.
Trevor Story's walk-off long ball in the tenth reduced St. Louis' magic number to one.
Game 162 promises to bring a sellout crowd to Busch Stadium to watch new found ace Jack Flaherty (10-8, 2.85 ERA) take the mound for the home team.
Former ace Adam Wainwright (14-10) had a rough outing, allowing six runs on 12 hits in 4 1/3 innings and giving up a career high four home runs.
"I couldn't be more disappointed in me," Wainwright said. "I feel good. My front side's flying open. I've got to keep that closed way longer, keep me on target. That's why my breaking ball is hanging and my fastball's been up a little bit. I'm trying to correct it mid game, but just having a hard time doing it."
By the time Wainwright walked off the mound, the Cubs had a 6-0 lead.
The Cardinals, as they have done so many times in 2019, made a run, chipping away at the deficit with three runs in the bottom of the fifth.
Harrison Bader started the frame with a home run, and rookie Tommy Edman  had a big two-run triple.
St. Louis added two more tallies in the bottom of the seventh, despite having only one hit in the inning, Edman's RBI single.
That made it a 6-5 game.
Chicago added two more big runs in the eighth before Paul DeJong's eighth inning homer pulled St. Louis within two, 8-6.
The Cards had one last chance in the ninth with the tying run at first base, but Yadier Molina flied out to end the night.
Former Cardinal Steve Cishek (4-6) gets the win in relief for Chicago.
Sunday's regular season finale matches Flaherty (10-8, 2.85 ERA) against Chicago's Derek Holland (2-4, 5.47 ERA).
Game Notes: 
Wainwright matched his career high for hits allowed with 12, and allowed five or more runs in back to back starts for the first time since 2016.
DeJong's home run was his 30th of the season. This is the first Cardinals team featuring two players with at least 30 home runs (Paul Goldschmidt has 33) since Albert Pujols and Lance Berkman did it in 2011.
Andrew Miller, who pitched two-thirds of an inning in relief for St. Louis, has allowed five of his last eight inherited runners to score.
The current four game losing streak is the most for the Cardinals since August 3-7, 2019 (five games).
Chicago Cubs at St. Louis Cardinals 9-28-19