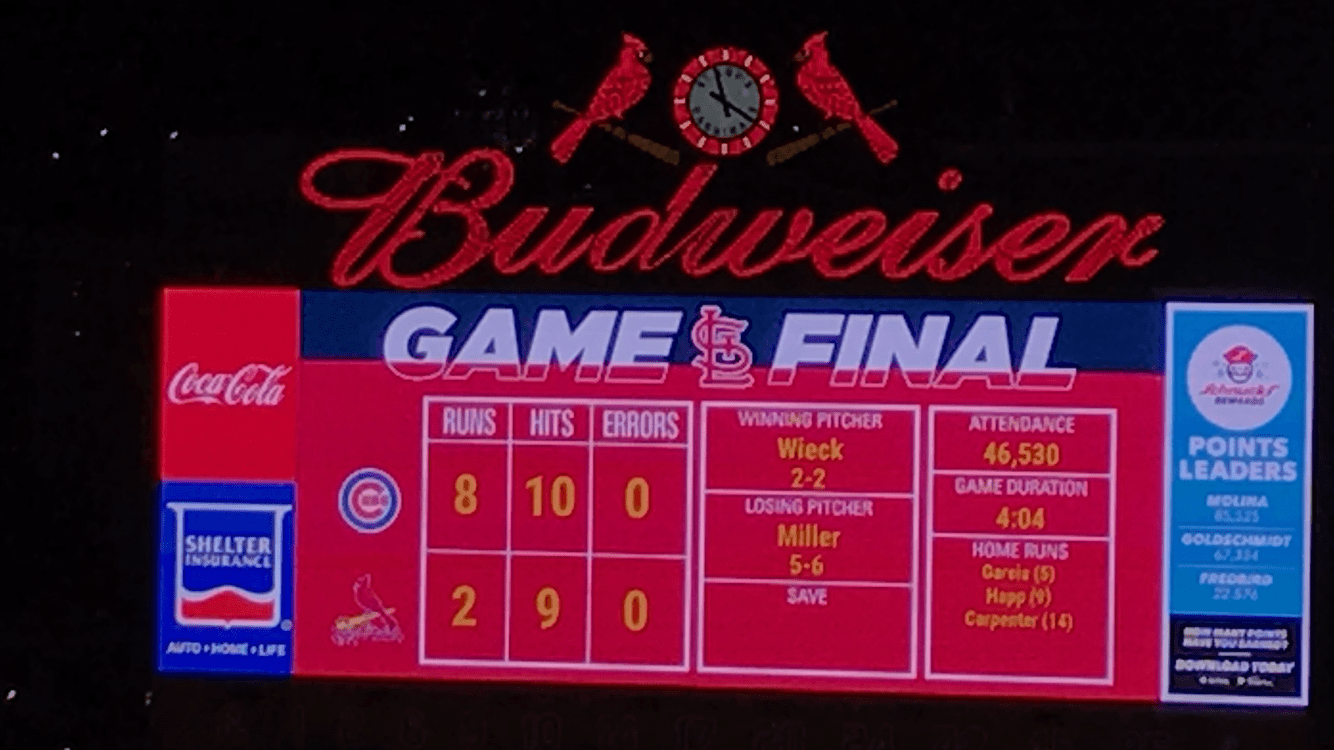 The Chicago Cubs use a seven run, seventh inning outburst to rout the St. Louis Cardinals 8-2 Friday night at Busch Stadium.
Despite the loss, the Cardinals control their own destiny in the National League Central Division as Milwaukee's 11-7 defeat at Colorado keeps St. Louis in first place with a one game lead.
St. Louis starter Dakota Hudson matched Chicago pitcher Alec Mills through four and a half scoreless innings before third baseman Matt Carpenter gave the sellout crowd of 46,530 something to cheer about, hitting a home run to left center in the bottom of the sixth.
Hudson was solid, shutting out the Cubs on two hits through five innings and setting a new career high with ten strikeouts.
The bullpen was a different story.
Cubs third baseman Ian Happ hit a game tying homer in the sixth off Cards reliever Giovanny Gallegos.
But the real damage came in the seventh, as Chicago sent 11 hitters to the plate, banging out seven runs on six hits.
Andrew Miller (5-6) gave up four of those tallies, while hitting a batter and uncorking a wild pitch. He was booed off the field by many of the fans in the park.
Ryan Helsley, who relieved Miller, gave up three more runs in just one third of an inning, and the rout was on.
Yadier Molina added an RBI single in the bottom of the seventh.
Brad Wieck (5-6) got the win for the Cubs by striking out Joe Martinez, the only hitter he faced in the bottom of the sixth.
The Cardinals' magic number now stands at two as they get set to send Adam Wainwright (14-9, 3.98 ERA) to the mound  Saturday against Chicago's Cole Hamels (7-7, 3.92 ERA).
First pitch is set for 6:15 p.m.
https://soundcloud.com/947ktts/dakota-hudson-postgame-9-27-19
Game Notes: 
Friday's game was played in four hours and four minutes, making it the second longest nine inning contest in Busch Stadium III history. The record is a 4:05 game played earlier this month, a 4:05 minute affair with the San Francisco Giants.
Molina now has hits in six of his last seven games and 8 RBI total in those games.
Tommy Edman went 3-4 for St. Louis, tallying his eighth three-hit game of the season. He's reached base safely in 16 straight contests.
Carpenter has 20 career home runs against the Cubs, tied for his most against any MLB opponent with Cincinnati.

Chicago Cubs at St. Louis Cardinals 9-28-19