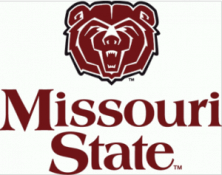 SPRINGFIELD, Mo. – After being held scoreless over the game's first 27 minutes, No. 6 Kennesaw State scored on three consecutive rushes to turn the tables on Missouri State in a 35-24 non-conference decision over the Bears Saturday afternoon at Robert W. Plaster Stadium.
Isaac Foster spearheaded the Owls' (3-1) outburst with a pair of long scoring runs, as KSU ultimately tallied 28 unanswered points to help turn a 13-point deficit into a double-digit advantage of its own. The sophomore rushed for a career-high 183 yards and combined with Bronson Rechsteiner (221 yards) for 404 of KSU's 479 yards on the ground.
Known as a ball control offense that entered the contest averaging over 35 minutes in time of possession per game, the Owls employed a quick-strike attack to kick-start their offense against the Bears (0-3). Foster broke up the Bears' shutout bid with a 75-yard late in the second quarter, then pulled the Owls to within two points with a 67-yard run on the first play of the second half.
KSU struck again on its next offensive snap, this time using an 85-yard run by Rechsteiner to seize the lead for good. One more long run—a 64-yard gain by Rechsteiner—to start the Owls' next offensive series set up a four-yard touchdown by Shaquil Terry that put the visitors on top 28-16 with 3:31 left in the third period.
Daniel David's four-yard run with just over six minutes to play made it a three-possession game, which would ultimately prove too much for the Bears to overcome. MSU's first non-conference home loss since September 2013 also extended the Bears' overall losing streak to eight consecutive games dating back to October of last season.
Missouri State built its 13-point first-half advantage—its largest lead of the 2019 season—behind a shutdown performance from its defense, which limited the Owls to 55 yards of total offense in the opening quarter. The Bears' defensive unit held KSU scoreless until the 2:31 mark of the second period, turning back the Owls on three separate drives in which the visitors advanced the ball into MSU territory.
Claudio Martin registered the biggest blow of the opening 30 minutes for the MSU defense, stripping David at the goal line before McNeece Egbim fell on the loose football just inside the Owls 1-yard line. Two plays later, Peyton Huslig tucked the ball and found daylight in the end zone to stretch MSU's lead to 13-0 with just under three minutes to play in the half.
After absorbing Foster's first scoring jaunt that momentarily sliced the margin back to six points, Huslig and the Bears engineered a 50-yard scoring drive to regain some breathing room heading into intermission. A pair of critical KSU penalties extended the drive, and Parker Lacina's 37-yard field goal as time expired extended the lead to 16-7.
But the Owls wasted no time in reversing the course of the contest, racking up 331 rushing yards on just 15 combined carries during the second and third quarters, including 213 on their six third-period rushes. In all, KSU topped the 400-yard rushing mark for the third time in four games this season and totaled 526 yards of offense for the afternoon.
Huslig recorded a career high with his 28 completions for 292 yards and two touchdowns, connecting with Tyler Currie eight times (also a career best) for 67 yards. His 28-yard scoring toss to Damoriea Vick accounted for the Bears' lone second-half touchdown late in the fourth period.
Titus Wall led the MSU defense with a season-high 10 stops, while Bryson Armstrong paced KSU's defense with a game-high 13 tackles.
Following a bye week in their schedule next Saturday, the Bears open Missouri Valley Football Conference play with a 3 p.m. game at Western Illinois on Oct. 5.
Postgame Notes:  Missouri State dropped to 68-36-4 in home openers and 215-172-12 all-time at Plaster Stadium…The Bears suffered their first non-conference home loss under head coach Dave Steckel, who dropped to 5-1 in such contests…The setback stopped MSU's string of six straight non-league home wins, dating back to a Sept. 13, 2014 victory over North Dakota…Peyton Huslig made his 25th consecutive start for the Bears at quarterback, while Lorenzo Thomas started for the 20th straight game at wide receiver; on the defensive side of the ball, McNeece Egbim logged his 21st start in a row at linebacker…Huslig's six-yard TD pass to Lorenzo Thomas marked the senior quarterback's 26th scoring pass as a Bear, which ranks sixth all-time at MSU…Huslig's 45-yard completion to Armand Baker represents the Bears' longest gain from scrimmage this season…Huslig moved into sole possession of third place on a pair of MSU career lists, surpassing Kierra Harris on the Bears' all-time completions list with 386 for his career; he also passed Mitch Ware for the No. 3 spot on MSU's total offense chart, finishing the day with 5,809 for his career…Tyler Currie surpassed a personal best with his game-high eight receptions for 67 yards…Brendan Withrow punted six times for an average of 48.5 yards, including a 62-yard boot and three kicks downed inside the KSU 20.
Courtesy of Missouri State Athletics Communications.