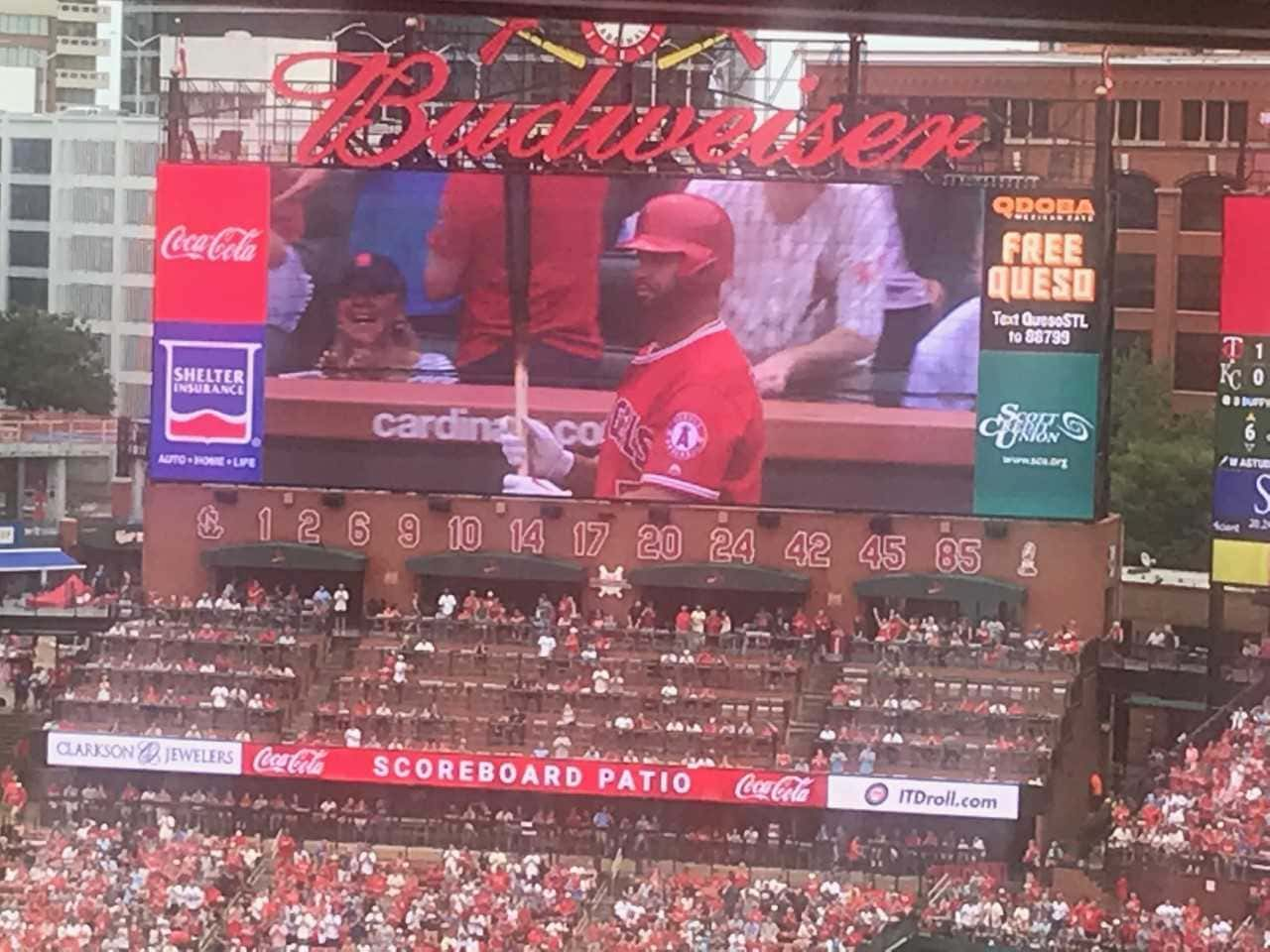 The St. Louis Cardinals get seven solid innings from Dakota Hudson and beat the Los Angeles Angels 4-2 Saturday afternoon at Busch Stadium.
Hudson (6-3)  allowed only one run on five hits and struck out six.
The only blemish? A seventh inning home run by Albert Pujols that sent 46,711 fans at Busch Stadium into a frenzy as the ball sailed over the wall in left-center.
Pujols, playing his first series at Busch Stadium since leaving the Cardinals to sign a ten year deal with the Angels following the 2011 season, came out of the visitors' dugout for a curtain call.
It was just one of many touching moments over the last two days as St. Louis welcomes back its former All Star slugger.
Pujols has been getting a standing ovation each time he walks to the plate, aided by Cards cather Yadier Molina stepping toward the pitcher's mound to give Albert the spotlight.
The Cardinals broke a scoreless tie in the fifth when Hudson laid down a sacrifice bunt with runners at first and second and one out.
The ball was fielded by pitcher Felix Pena (5-2), who threw wildly to third as Molina and Kolten Wong came in to score, giving St. Louis a 2-0 lead.
"I got it down," Hudson said with a smile when asked about the bunt. "A little bit too much to the pitcher. He had a play at third. He just had something happen and able to score some runs off of it."
Hudson has made eight quality starts dating back to May 12th against Pittsburgh. "I'm trying to build and be the best Dakota Hudson I can be. I feel like I do a good job of getting ground balls and attacking, so I'm just trying to better myself as a professional and take pride in what I do."
In the sixth inning, Marcell Ozuna launched his 20th home run of the year just to the left of Big Mac Land in left field, doubling the Cards' lead to 4-0.
After Pujols' home run, Justin Upton added a solo shot for the Angels in the eighth.
Tyler Webb earned his first career save, coming into the contest for Jordan Hicks, who left the game with a cramp in his triceps.
Manager Mike Schildt says the team will do imaging, but it doesn't seem to be a big problem.
The Cardinals improve to 40-36 on the season, and trail the Chicago Cubs by just one game in the National League Central.
St. Louis will go for the sweep Sunday night, sending Miles Mikolas (5-7, 4.48 ERA) to the mound against the Angels' Tyler Skaggs (6-6, 4.61 ERA).
First pitch is set for 6:07 p.m., with the game to be televised nationally on ESPN.
Game Notes: 
Ozuna has posted 20 home runs in four straight seasons and five overall.
Molina has hit safely in all ten career games in which he has a plate appearance against the Angels.
Webb is the sixth different Cardinals pitcher with a save this season.
Pujols' home run was his 111th at Busch Stadium, with the first 110 coming as a Cardinal.
Pujols surpassed Pete Rose (5,752) and moved into eighth place all time with 5,754 total bases. Up next in seven place? Babe Ruth with 5,793 TB.
Los Angeles Angels at St. Louis 6-22-19