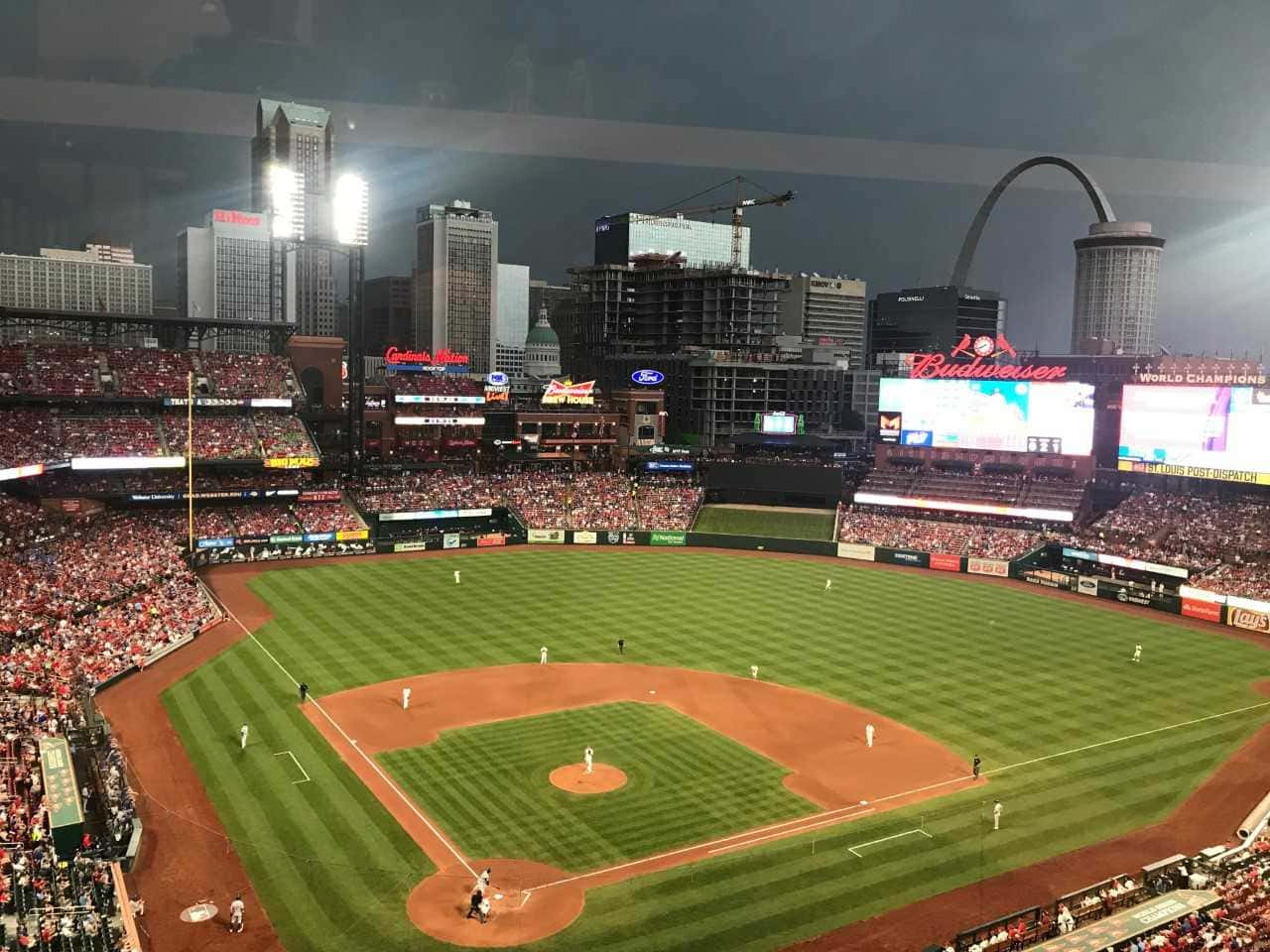 The St. Louis Cardinals endured a more than three and a half hour rain delay to beat the Chicago Cubs 7-4 Saturday night at Busch Stadium.
With the game tied 2-2 going to the bottom of the fifth, the umpiring crew chief ordered the tarp to be put on the field with severe thunderstorms approaching the downtown area.
The rains didn't come for another half hour, but when they hit, they came in several waves.
A small, but vocal crowd of both Cardinals and Cubs fans enjoyed the rest of the game in the lower seating area.
St. Louis broke the tie by pounding out three runs on four hits in the bottom of the sixth off Cubs reliever Tyler Chatwood (3-1).
Catcher Matt Wieters, filling in for Yadier Molina, who was placed on the ten day injured list on Friday, continued his hot hitting with an RBI double that plated Marcell Ozuna with the go ahead run.
Dexter Fowler followed with a run-scoring single, and Kolten Wong's double to left made it a 5-2 Cards lead.
The Cubs cut the lead to one with a two run seventh, but Fowler and Harrison Bader gave the home town fans who stuck around past midnight more to cheer about by launching back to back home runs to right in the bottom of the eighth, making it a 7-4 game.
With Jordan Hicks not available after working two innings in Friday night's game, Manager Mike Schildt gave the ball to Carlos Martinez in the ninth.
Martinez worked a one-two-three inning to pick up his first save since last September.
John Gant (4-0), who worked a scoreless sixth inning in relief of starter Jack Flaherty, picked up the win.
St. Louis starter Jack Flaherty allowed two runs on four hits in five innings, walking no one and striking out eight.
Schildt says when the rain delay hit one hour, there was no way Flaherty would be able to return to the mound when the game resumed.
The Cardinals have won three games in a row, and will go for the sweep Sunday afternoon at 1:15 p.m.
Adam Wainwright (4-5, 4.94 ERA) will take the mound for the Cardinals against Chicago's Cole Hamels (4-1, 4.02 ERA).
Game Notes: 
The Cardinals have hit back to back home runs five times this season.
St. Louis has won its first series since taking three out of four from the Washington Nationals from April 29th through May 2nd.
Flaherty has held his opposition to four hits or less while pitching at least five innings in eight straight starts this season. That's two shy of the MLB record of ten.

Chicago Cubs at St. Louis Cardinals 6-1-19