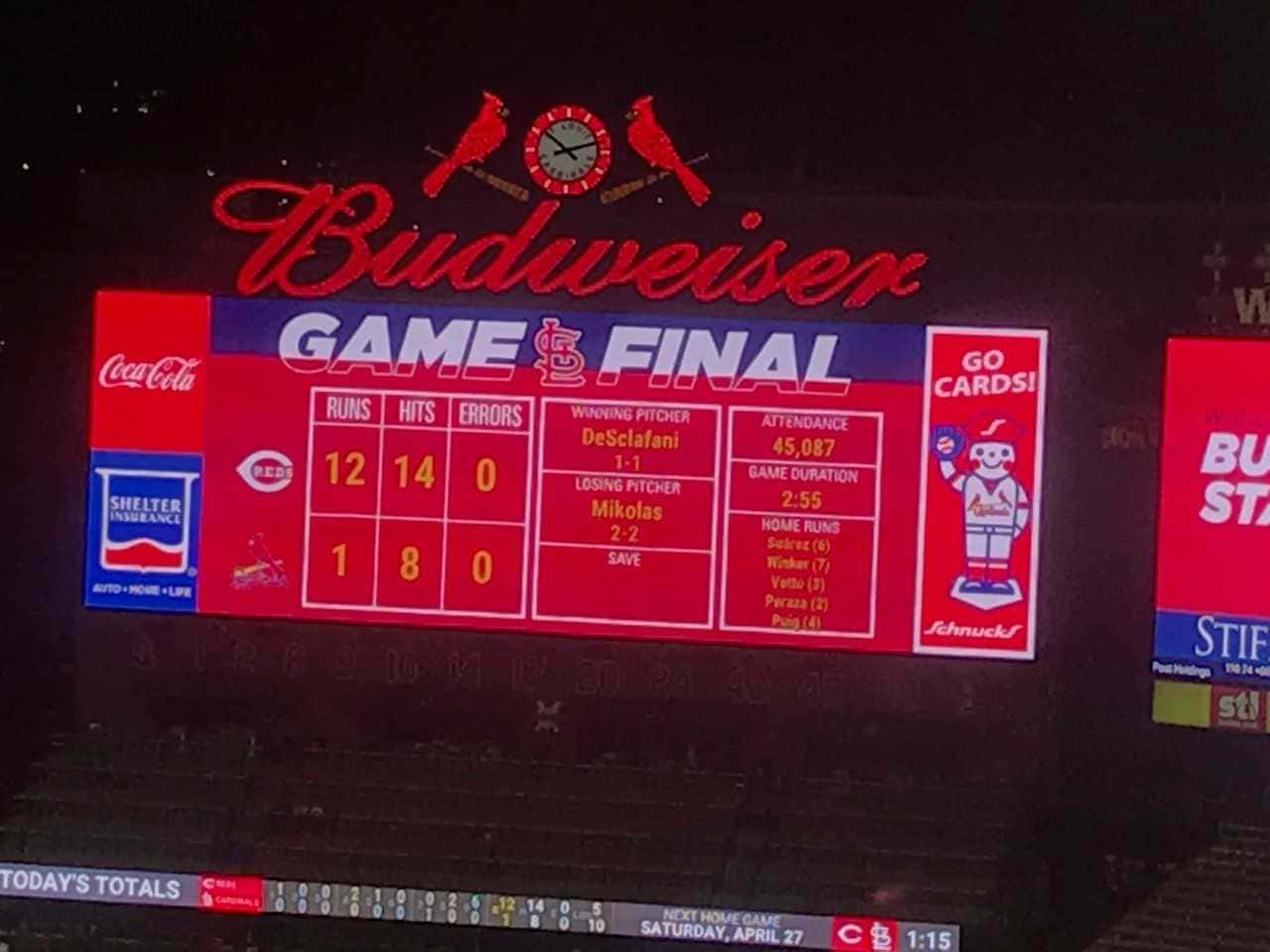 The Cincinnati Reds clubbed five home runs and beat the St. Louis Cardinals 12-1 Friday night at Busch Stadium.
It's the first blow-out loss this season for St. Louis, which saw its five game winning streak come to an end.
Three of Cincinnati's blasts came off starter Miles Mikolas (2-2), including solo shots by Eugenio Suarez in the first inning, Jesse Winker in the fourth, and Joey Votto in the fifth.
Mikolas, pulled from the game after five innings with his team trailing 4-0, has now given up eight home runs combined in his first six starts.
The Cardinals showed some life in the bottom of the seventh as Paul DeJong's base hit drove in Matt Carpenter, who walked with two out.
That made it a 4-1 game.
But things got worse for St. Louis as Yasiel Puig hit a two run homer to center in the eighth to expand the Reds' advantage to 6-1.
Cincinnati sent ten hitters to the plate in the ninth, banging out six runs on six hits off reliever Dominic Leone, including a home run by Jose Peraza.
The biggest cheer of the night from the crowd of 45,087 came when reserve infielder Jedd Gyorko took the mound in the ninth and struck out pinch hitter Phillip Ervin to bring an end to the long inning.
The Cardinals will try to pull even in the series Saturday afternoon with a 1:15 game.
Dakota Hudson (1-1, 5.89 ERA) takes the mound for St. Louis against the Reds' Tyler Mahle (0-2, 3.52 ERA).
Game Notes:  
Friday's game marked the sixth time this season a Cardinals' starting pitcher has surrendered three home runs.
Catcher Yadier Molina extended his hitting streak to a season-high 13 games with a single in the second inning, while first baseman Paul Goldschmidt ran his hitting streak to 12 games with a base hit in the seventh.
Carpenter raced out his second bunt hit of the season, dropping one down the third base line leading off the bottom of the first. Dexter Fowler also had a bunt base hit for the Cards.
Cincinnati at St. Louis 4-26-19