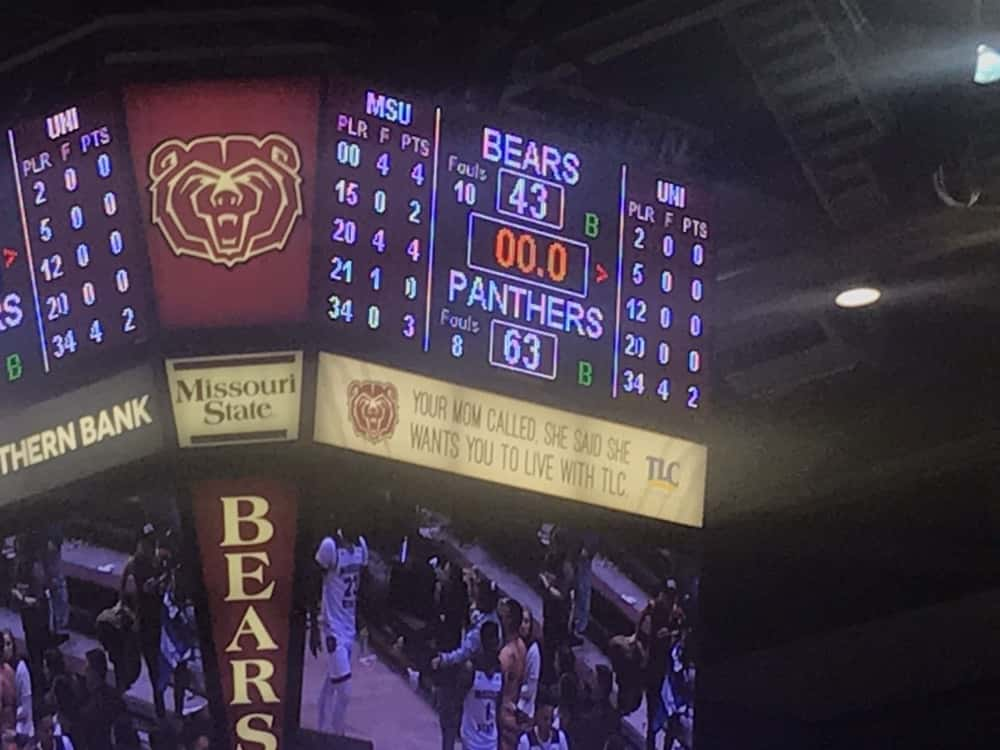 The Northern Iowa Panthers have knocked the Missouri State Bears out of first place in the Missouri Valley Conference with a 63-43 win Wednesday night at JQH Arena.
The loss puts MSU in third place, a game behind both Loyola and Drake.
The Bears led 19-17 at halftime, despite shooting only 32% from the floor, including an 0-7 effort from the three point line.
But MSU had trouble defending in the second half.
Northern Iowa took a 22-19 lead when Isaiah Brown drained a three pointer with 17:34 left in the game, and the Bears never caught the Panthers.
The game was marred by Bears Coach Dana Ford being ejected with 2:23 remaining and his team trailing 53-41.
Ford, who was visibly upset from a previous call, jumping up and down on the sidelines, was whistled for a technical as he walked onto the court and brushed past the official after a stoppage of play for a foul call. He continued yelling at the referee as he walked off the court and headed to the locker room.
Many in the crowd of 6,751 gave Ford a standing ovation as he headed through the tunnel.
"My team's not playing very well," Ford said in his post-game news conference when asked about his ejection. "We're not making any shots. My defensive game plan wasn't very good. So I  was extra frustrated."
Ford says the Bears missed a lot of shots. "They (Northern Iowa) pack it in. They force you to make shots. You've got to step up and make a couple of shots. We've got to get up there and make the basket."
Ford's ejection was the culmination of a frustrating second half for Missouri State, who fell behind by eight when Wyatt Lohaus hit a bucket with 11:15 left.
The Bears got a three pointer from Jared Ridder at the 11:01 mark to pull within five, 34-29, but the Panthers used an 11-2 run to open up the game, going up 49-35.
Lohaus scored 22 points on 9-15 shooting to lead UNI, who improves to 13-15 overall, 8-7 in the Valley.
Jarred Dixon's 14 points led Missouri State, who drops to 15-13 overall, 9-6 in the MVC.
The Bears will play Indiana State at JQH Arena Saturday afternoon.
Tip-off is set for 1:00 p.m.
Game Notes: 
Northern Iowa sweeps the two league games against the Bears, dropping Missouri State to 3-8 against the Panthers at JQH Arena.
The Bears were just 2-18 from beyond the arc, and struggled at the free throw line, hitting just seven of 14 attempts.
Missouri State was out-rebounded by UNI 36-33.
Northern Iowa vs. MSU Bears 2-20-19