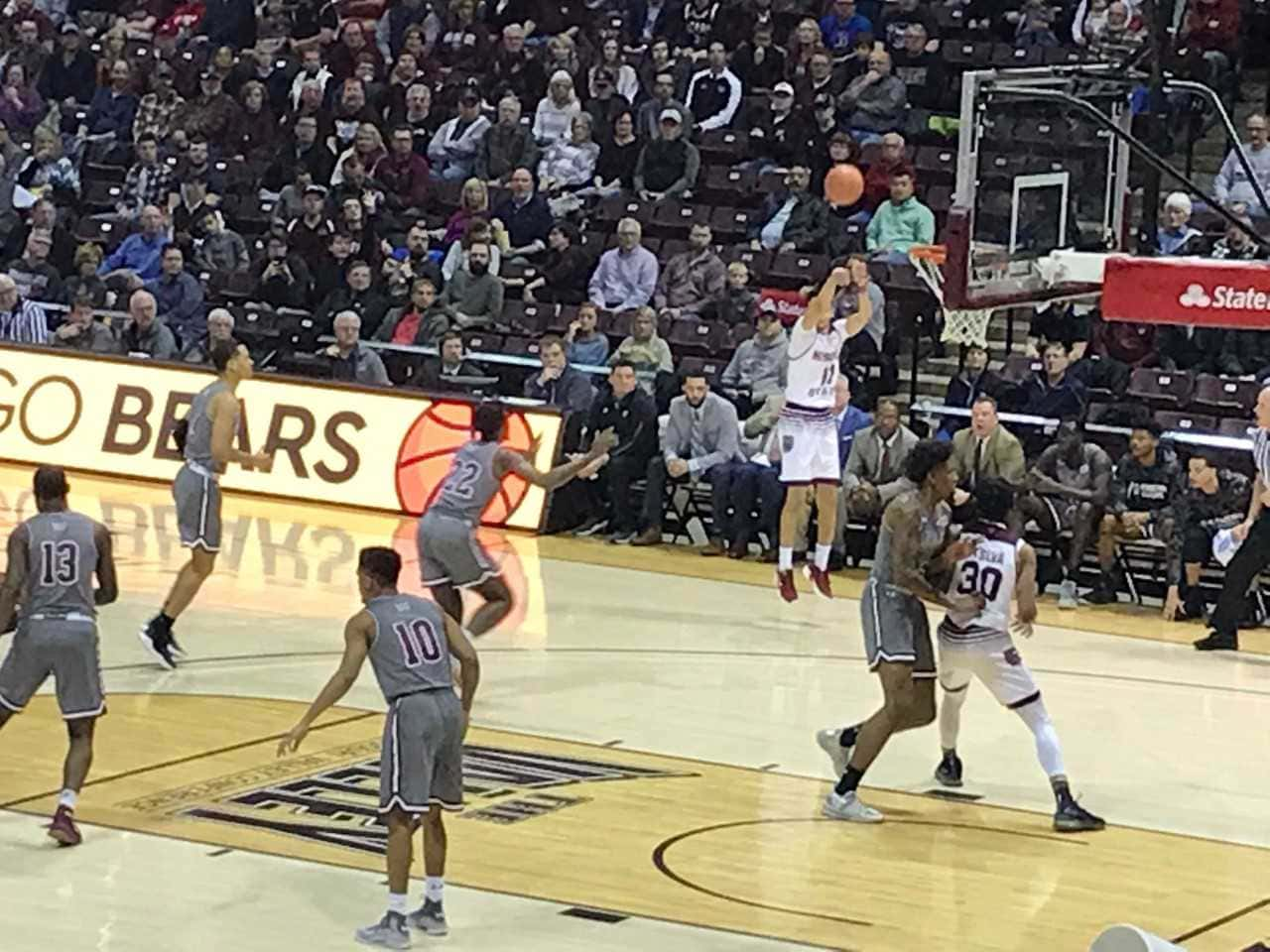 The Missouri State Bears survived a furious comeback attempt by the Southern Illinois Salukis to win 65-59 Wednesday night at JQH Arena in Springfield.
The Bears got a three pointer from Jarred Dixon with three seconds left in the first half to take a 36-23 lead into the locker room at halftime, but Southern Illinois went on a 12-2 run to start the second half to close the gap to 38-35.
Aaron Cook's jumper for SIU with 9:50 left in regulation knotted the game 44-44, and Cook's layup with 5:18 remaining gave the Salukis a 52-50 lead.
But Josh Webster's layup at the 4:46 mark tied the contest, and MSU's Keandre Cook drained a big three pointer at the 4:01 mark to give his team a 55-52 advantage.
Dixon's third trey of the game put MSU up 60-54 with 2:23 left, and SIU could get no closer than a three point deficit in the final  minute.
Dixon led four Bears in double figures with 19 points, with Cook and Webster putting in 12 points each, and Tulio Da Silva adding 11.
Kavion Pippen scored 24 points and pulled down ten rebounds to lead the Salukis.
The Bears improve to 12-12 overall and 6-5 in the Missouri Valley Conference, while SIU drops to 12-12, 5-6.
Missouri State, who is currently in a tie for third place in the Valley standings, will take on Illinois State Sunday afternoon at 3:00 p.m. at JQH Arena for a chance to move into at least a tie for second place.
Game Notes: 
The Bears snap a nine game losing streak to the Salukis. SIU had won the previous three meetings at JQH Arena.
Going into Wednesday's contest, MSU allowed a league-best 61.2 points per game. In the past 14 seasons, the Valley leader in team defense has reached the NCAA Tournament ten times and the NIT three times.
JQH Arena welcomed its one millionth men's basketball fan Wednesday night with a special recognition and a prize pack. MSU is 120-54 all time at The Q since it opened in November, 2008.
Wednesday's announced attendance was 5,311.
https://soundcloud.com/947ktts/dana-ford-postgame-2-6-19
Southern Illinois at Missouri State 2-6-19