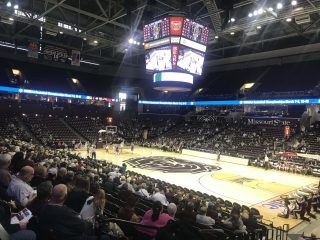 The Missouri State Lady Bears get 25 points from Alexa Willard and another double-double from Jasmine Franklin and roll to an 88-66 win over the Evansville Purple Aces Sunday afternoon at JQH Arena in Springfield.
It's the 5th straight victory for Missouri State, who improves to 6-7 overall, 2-0 in the Missouri Valley Conference.
The Aces (2-11, 0-2) grabbed a quick 4-1 lead two minutes into the contest, but it didn't last long as Willard hit three shots in just over a minute, giving MSU a 7-4 advantage.
When sophomore Emily Gartner hit a layup with 5:55 left in the first quarter, it put the Lady Bears up 9-4.
Willard then went deep on back to back possessions, completing a 12-2 run  that say MSU's lead jump to 21-9.
The junior from Stoutland High School added another trey late in the quarter to increase Missouri State's advantage to 14 points.
Evansville got the lead down to 10 points, 26-16, eight seconds into the second quarter on a jumper by Brooke Bishop, but when Missouri State scored 12 unanswered points, the rout was on as Coach Kellie Harper's freshmen and sophomores took over
Freshman Jasmine Franklin and sophomore Abby Hipp hit back to back shots, then freshman Mya Bhinhar drained a three pointer.
Another freshman, Dariauna Lewis, hit a shot with 5:57 left in the quarter to extend the lead to 36-16, and by the time halftime arrived, the Lady Bears had more than doubled up on the Aces, 52-25.
Evansville outscored Missouri  State 41-36 in the second half, but Harper was able to pull her starters out early, with no player seeing more than 24 minutes of action.
Willard went 11-15 from the field, draining three treys in five attempts to lead all scorers with 25 points.
Senior Danielle Gitzen scored 15 points, Gartner put in 13, and Franklin finished with 10 points and ten rebounds for her second straight double-double performance.
A'Niah Griffin and Marley Miller finished with 12 points each to lead four Aces in double-figures.
Harper says her team did what it needed to do to come up with a win. "I think our team feels good about what we did. We got the ball inside. I thought offensively, especially in the first half, we were really patient to find great looks. And fortunately for us, we knocked them down and did a really good job on the boards, which we expected to do a good job on the boards today. Just really proud of our team getting us off to a good start in that first half."
Harper says Willard got some great looks at the bucket. "We did a really nice job of transitioning from defense to offense, and she got out and was looking for her shot. We found her."
Willard, who scored 19 of her 25 points in the first half, gave credit to her team. "I just wanted to go out and be aggressive and it wouldn't have been possible without my teammates. They got me the ball when I was open. Just not being afraid to take a shot."
The Lady Bears have a week off before their next Valley game as Southern Illinois comes to JQH Arena next Sunday, January 13th for a 2:00 p.m. contest.
Game Notes: 
Sunday's win marks the 13th time in 27 Missouri Valley Conference seasons the Lady Bears have started 2-0 in the league. Of the previous 12 perfect starts, MSU won the regular season four times, finished second six times, and placed third twice.
The Lady Bears have won 20 of their last 24 home games.
Missouri State has won ten straight conference games at home, tying for the fifth longest streak in school history.
MSU leads the all-time series against Evansville 41-13, including a 23-2 record in Springfield.
Missouri State tied a JQH Arena field goal percentage record for a half, knocking down 21 of 32 shots in the first half Sunday (65.6%). The previous record was also against Evansville on February 28th, 2010, when the Lady Bears went 21-32 in the second half against the Aces.
The Lady Bears out-rebounded Evansville 52-20, tied for the third best margin in team history at +32
Evansville Purple Aces vs MSU Lady Bears 1-6-19