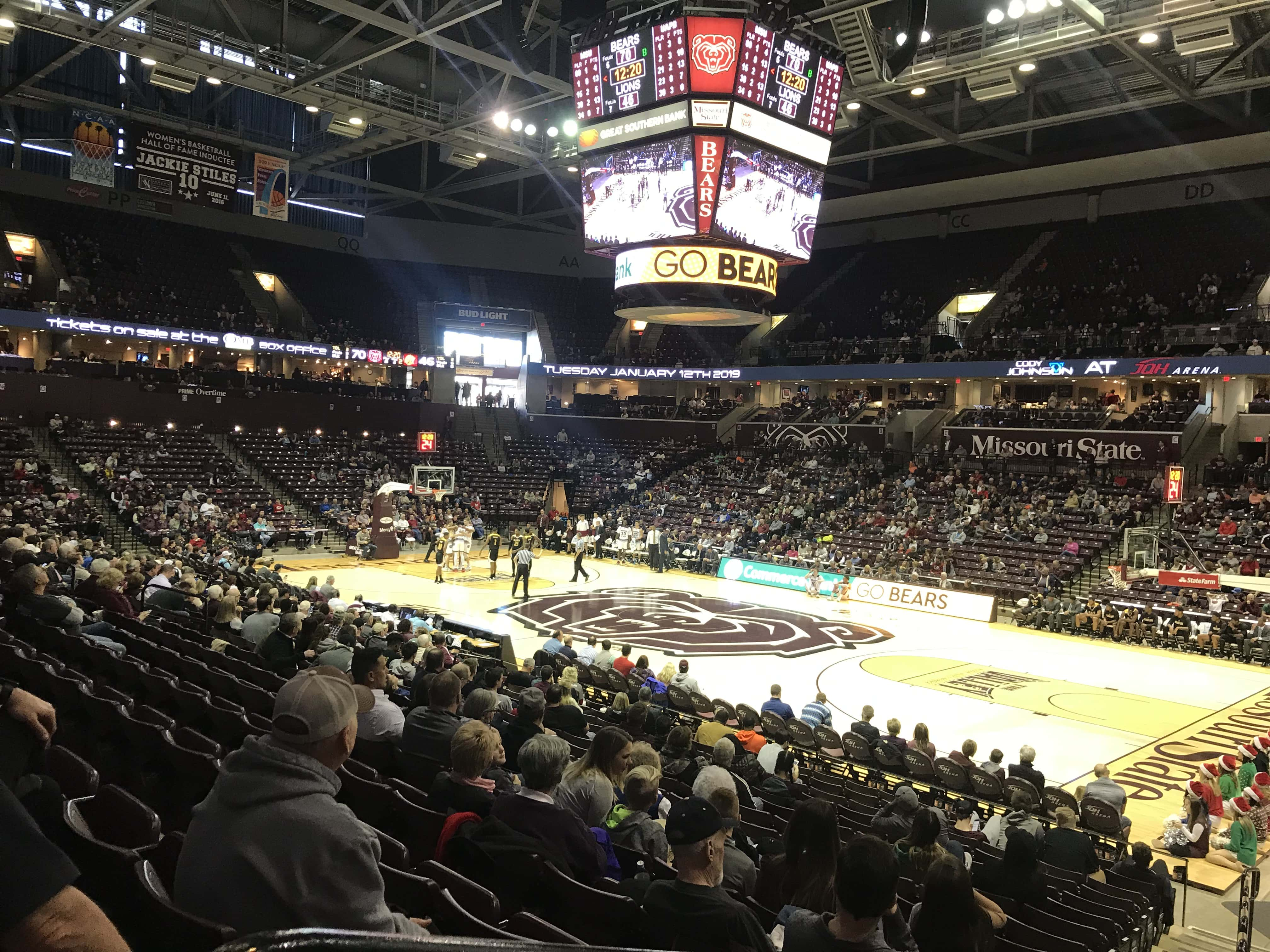 Photo by Don Louzader, KTTS News
The Missouri State Bears get 22 points from Tulio Da Silva and roll to a 93-72 win over the Arkansas-Pine Bluff Lions Saturday afternoon at JQH Arena in Springfield.
MSU shot 64% from the field in the first half and drained eight three pointers, jumping out to a 54-32 halftime lead.
The Bears ended the game shooting 53% from the floor, connecting on ten three pointers out of 27 attempts.
Missouri State, who trailed only during the first minute of the game, went ahead by as many as 30 points in the second half, flirting with the 100 point plateau.
Senior Ryan Kreklow hit five treys from long distance and finished with 18 points, with Keandre Cook scoring 17 points and Jarred Dixon ten.
Dixon hit a free throw with 6:01 left in regulation that gave him 1,000 career points.
He got a big ovation from the 3,826 fans at JQH Arena when the announcement was made.  "It's a blessing really to get to that. Not many people get to that. It wasn't something I really thought of until it was coming close, but I'm glad I got it out of the way so now I can really focus on the team."
Missouri State Coach Dana Ford says anytime you score 1,000 points in college, you're a really, really good player. "I'm proud of J-D because it's not easy being a senior getting a new coach," Ford said. "And on top of that, he's been asked to play a role that really isn't the strength of his game. We play a system where the point guard has to do some different things, and J-D's not a point guard, he's a combo guard. We've been very pleased with him overall throughout the year."
Senior guard Josh Webster didn't get a bucket, but captured 15 out of the Bears' 17 assists in the contest with no turnovers.
"I do whatever it takes to win," Webster said. "Tonight, it was to find my teammates when they were open. Obviously Krek and Jarred Ridder, Tulio and J-D and everybody on the team, just finding them. And they were just knocking down shots."
One noticeable absence on the court: Missouri State's 6-8 senior forward Obediah Church, who after starting every game this season and 100 out of his first 106 games at MSU, wasn't even in the arena.
"I think I can talk more about that after the break," Ford said. "In fairness to Obediah, I need to sit down and have a conversation with him when the time is right. I think after we have a conversation, I'll be able to comment on that situation further. But he's not in trouble with any law or anything of that nature."
When asked whether there's a chance Church doesn't play at Missouri State again, Ford said he would anticipate all of his guys playing again. "When I have a conversation with him after Christmas, I'll be able to give you to the tee what's up. Right now, I just don't know."
Shaun Doss led Arkansas-Pine Bluff in scoring with 23 points.
The Bears improve to 5-7 with the win, while the Lions drop to 3-9 on the season.
Missouri State will take on Williams Woods University Sunday, December 30th at 5:00 p.m. at JQH Arena, then get ready to open Missouri Valley Conference play on January 2nd at Southern Illinois.
Game Notes: 
Missouri State is 10-0 all time at JQH Arena against schools from Arkansas, including a win against the Arkansas Razorbacks in the first game at the facility in November, 2008.
Dixon is the 29th Bear to top the 1,000 point plateau in his college career.
Missouri State (5-0) joins Drake (5-0) as the only Missouri Valley Conference teams still undefeated at home this season.
UAPB Lions vs. MSU Bears 12-22-18