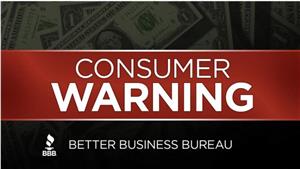 Courtesy Better Business Bureau
The Better Business Bureau is asking consumers to use extreme caution when doing business with a timeshare exit company based in Springfield.
Folks have reported losses of more than $50,000 in the last two months to MRC Group for things like failing to honor contracts, putting on misleading sales presentations, and not issuing refunds.
The company, which has an "F" rating with BBB, has sent a letter to clients saying it's ceased doing business and all of its files have been transferred to a law firm in Tennessee. That firm also has an "F" rating.
Read the full press release from BBB:
St. Louis, Mo., Dec. 13, 2018 – With reported losses by consumers of more than $50,000 in the last two months to MRC Marketing Group LLC, Better Business Bureau (BBB) advises consumers to use extreme caution when doing business with the Springfield, Missouri, timeshare exit company.
Consumers allege the company, which also is known as MRC Group, failed to honor contracts, put on misleading sales presentations, did not issue requested refunds, and provided overall poor customer service. The business has an "F" rating, the lowest on BBB's scale, due to several unanswered customer complaints.
Consumers reported losses between $500 and $8,900 with most losses in the $4,000 range. Of the 13 consumers reporting losses to BBB, the amount totaled $54,080.
"This further illustrates the perils of working with timeshare exit companies demanding up-front payment for their services," said Stephanie Garland, regional director of BBB's Springfield office. "If they do not deliver on the promises they make during their presentations, consumers open themselves up to losing a lot of their hard-earned money."
A woman from Joplin, Missouri, told BBB that she believed MRC Group did "zero" for her despite paying the firm nearly $9,000 to rid her of two timeshare holdings. The woman attended a presentation at a Joplin hotel in March 2018 and signed a contract. She told BBB she became concerned about the company after it changed the fee structure and sent her case to another firm.
The woman told BBB she feared that she might lose the money she invested in her timeshare exit plan. Those fears were realized in late October 2018 when she received a letter from MRC Group.
"Unfortunately, due to financial difficulties, MRC Group has ceased doing business and as a result all operations are being dissolved," the business wrote in its letter.
In its letter, the company told its clients that all of its files had been transferred to Dunn Law Firm, which is based in Brentwood, Tennessee. Dunn Law Firm has an "F" rating with BBB. According to its website, Matthew Dunn leads the firm.
A Havelock, North Carolina, man told BBB he doesn't know if he still has his timeshare holding after paying MRC Group $3,995 in September 2017. The man said he signed with the firm partially based on a money-back guarantee written in the contract.
"I/We understand that MRC Group guarantees that the above resort will be transferred within 365 days from the date that the transfer begins or all monies paid to MRC Group will be refunded," the contract reads.
When the man's anniversary date arrived, he contacted MRC Group to get his refund. The man told BBB the company responded that it had fulfilled its contractual obligations by forwarding his case to Dunn Law Firm.
A woman from Lisbon, Maine, told BBB she believes she lost $3,500 to MRC Group. She signed a contract with the company in September 2017. When her anniversary date arrived in 2018, she requested a refund from the business. The company did not refund her money.
"We got burned, and now we are paying for it," the woman told BBB.
The woman also received the late October letter from the company. She said she has tried to reach representatives with MRC Group and Dunn Law Firm but has not had any success. BBB attempts to reach the Dunn Law Firm failed.
According to Missouri secretary of state filings, the business is owned by Michael W. Baggett of Springfield. MRC Marketing Group LLC was formed in March 2016.
Baggett did not answer questions sent to him via email from BBB. He instead referred to the letter the business sent consumers about it dissolving. The business did not respond to a letter sent to it by BBB in August 2018 requesting information about how the firm plans to address its underlying pattern of complaints.
The business' website is still active. On the website, the business states: "The MRC Group is a consumer advocacy group devoted to helping timeshare owners breaks free from the financial and emotional burden imposed on them by the timeshare industry." The business claims to have "a 93 percent success rate" and it has "helped 1000s of owners just like yourself get out of their timeshare."
Baggett previously filed for bankruptcy twice, filing in Missouri's Western District in 1994 and Florida's Southern District in 2005. According to Florida secretary of state filings, Baggett owned and operated Real Estate to Cash, LLC. The business was formed in March 2008 and was dissolved in September 2009.
BBB offers the following tips for consumers attempting to liquidate a timeshare:
Research any business and its owners carefully before paying any money. Check the company's BBB Business Profile at bbb.org or by calling 888-996-3887.
Contact the resort that originally sold you the timeshare to see if they have a deed-back program.
Before paying anything, make sure you have a signed contract outlining what is to be done, a timetable and an explanation of what happens if the business or the consumer doesn't comply with the agreement.
Be wary of anyone claiming that they have a buyer for your timeshare or who promises to rent your timeshare, especially if they ask for an upfront fee.
Pay with a credit card in case you need to challenge the purchase later.
If you feel you have been misled, file complaints with BBB and the state's attorney general's office.
In the summer of 2018, BBB issued an in-depth study of the timeshare, vacation club and timeshare exit industries. The study is available here.
About BBB
BBB is a nonprofit, business-supported organization that sets and upholds high standards for fair and honest business behavior. BBB services to consumers are free of charge. BBB provides objective advice, BBB Business Profiles on more than 5.3 million companies, 11,000 charity reviews, dispute resolution services, alerts and educational information on topics affecting marketplace trust. Visit bbb.org for more information.