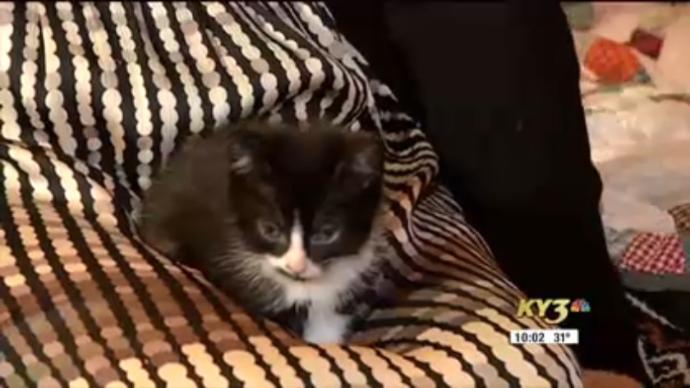 Photo Courtesy: KY3
A Springfield Police officer is under investigation after a woman says he mistreated her kitten during a house search last month.
Angela Goodwin says when officers came to search her house, some of them purposefully broke things and one threw her three-week old kitten.
KY3 reported that when she saw the video, it made her sick to her stomach.
"I mean, I understood to a point they have to go through stuff," Goodwin said, "But, once I actually watched the video… that's not what they were doing."
Court document say officers found multiple cell phones, meth, and cash at the home.
She continued to say "At first I was like, oh okay, and then I saw him squeezing her and throwing her and shaking her, and I was like, really? What is this man doing?"
After posting the video on Facebook, Goodwin says people made comments saying that what happened wasn't bad because the kitten didn't run away.
Springfield Police Chief, Paul Williams says the department has ordered an internal investigation into the officer's actions once we became aware of the video, which was posted on social media. We are continuing our efforts to gather more information about the incident.
He says this incident is being taken seriously and we are currently collecting further information.
See the video HERE.
Video Courtesy of KY3