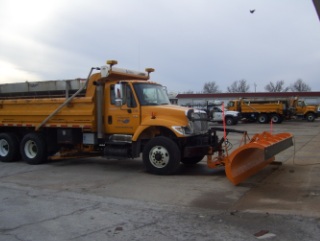 If you're travelling today, the National Weather Service says winter weather is expected for Kansas City and Northern/North-Western Missouri. Blizzard conditions are anticipated, with a snow accumulation of 1-3 inches.
MoDOT closed I-29 near the Iowa border, due to whiteout conditions. Crews are urging driver to not drive in northern Missouri as the condition are bad and will continue to deteriorate throughout the day.
You can check road conditions by clicking here.
In the Ozarks, expect to see some flurries and freezing drizzle. The National Weather Service is expecting some light snow, freezing drizzle, and flurries to hit in the early afternoon.
They expect that there won't be any sticking power to the winter weather south of Highway 54, since recent warmer temperatures will keep the ground warm enough to prevent any accumulation.
Here is more information provided by MoDOT:
JEFFERSON CITY – Whiteout conditions in the northern part of the state have closed Interstate 29 from the Iowa border to mile marker 84 in Mound City Sunday. The Missouri Department of Transportation is telling drivers to avoid travel in northern Missouri, especially in areas north of St. Joseph, as snow and wind will continue through Sunday night. MoDOT also anticipates additional closures throughout the day in the area.

The Sunday after Thanksgiving is one of the most popular travel days of the year, meaning major interstates and highways will be heavily congested. Additionally, the National Weather Service forecast calls for snow and high winds in the northern part of the state for the entirety of the day, meaning additional driving hazards for already packed roadways.

MoDOT is telling drivers to stay home and avoid travel during whiteout conditions. If you must travel, here are some additional safety tips:

Avoid travel in the northern part of the state. Take refuge in a safe place until the storm has passed.
If you must travel, allow extra time to arrive at your destination.
Wear your seat belt, and don't drive distracted. Buckle Up Phone Down.
Don't pass a snow plow and stay back six car lengths.
If you encounter car troubles or are involved in a crash, please remain in your vehicle.

Stay informed about Missouri road conditions by using MoDOT's Traveler Information Map, available online at traveler.modot.org, or through MoDOT's free mobile app, available for iPhone and Android phones. The map offers real-time views of road conditions for Missouri interstates and highways. You can zoom in to a particular location, check live weather radar, and view images from MoDOT's traffic cameras and message boards.