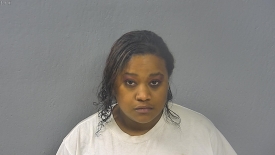 Photo: Greene County Jail
A fourth person has been arrested and charged in connection with the shooting deaths of two people in north Springfield earlier this month.
Springfield Police Department spokeswoman Jasmine Bailey tells KTTS News Nyadia Burden, 25, Springfield, was arrested Friday.
She was booked into the Greene County jail on two counts of first degree murder, and two counts of first degree assault.
Police have not revealed what role they believe Burden played in the homicides.
Aaron "Joshua" Hampton and Steven Marler were shot to death inside a house at 906 E. Locust Street on November 1st. Two other people were shot and seriously wounded.
Luis Perez and Aaron Anderson each face murder charges. A third person, Dalia Garcia, is charged with tampering with evidence in connection with the shootings.