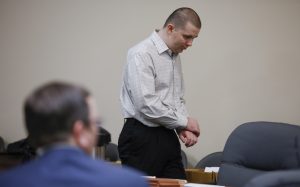 The murder trial resumed Wednesday morning in Springfield for Nicholas Godejohn.
He's charged with stabbing Dee Dee Blanchard to death at her home in Greene County in 2015.
Jurors saw Godejohn's videotaped confession on Tuesday.
In it, Godejohn told investigators that after he killed Dee Dee, he and Gypsy Blanchard took a bus back to his home in Big Bend, Wisconsin.
A sheriff's detective from Wisconsin testified that authorities found blood-stained clothes during a search of Godejohn's home.
They also found a yellow envelope mailed from Springfield with Gypsy's home as the return address.
In his videotaped confession, Godejohn told investigators that Gypsy came up with the idea to mail the murder weapon to his house.
The jury also saw the knife that was used in the murder.
A former worker at the Highway Patrol Crime Lab testified that the blood of Dee Dee, her daughter Gypsy, and Godejohn was found on paper towels, in a bathroom, and on the knife used in the murder.
A bloody glove found with the knife had a cut that matched a cut on Godejohn's finger.
A computer forensic expert also testified that he found Skype messages, sexual stories, and videos of Gypsy and Godejohn talking on several phones and computers.
He read jurors some of the text messages that were sent between Gypsy and Godejohn.