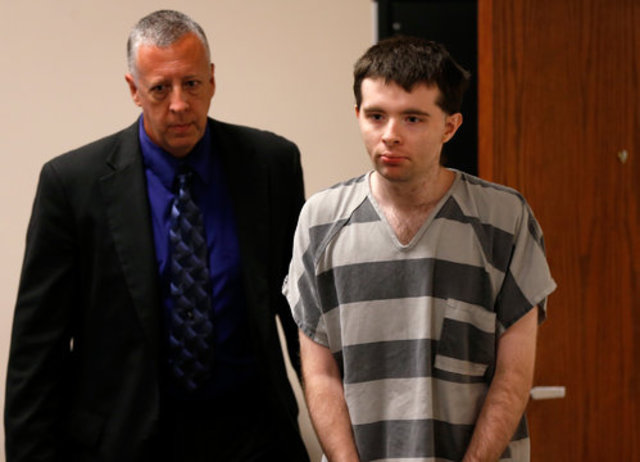 Image by pool photographer--Springfield News Leader
The Nicholas Godejohn murder trial is underway in Springfield.
The defendant walked into a Greene County courtroom Tuesday morning wearing a white-collared shirt and dress pants.
Prosecutors say they plan to bring up sexual misconduct regarding Godejohn's relationship with co-defendant Gypsy Blanchard and his statement that he thought about raping the victim, Dee Dee Blanchard.
Blanchard was found dead at her home in Greene County in 2015.
In opening statements that got underway at 10:00 a.m., prosecutors talked about Godejohn's confession of stabbing Dee Dee in the back and neck, having sex with Gypsy, mailing the knife back to his house, and taking a Greyhound bus back to Wisconsin.
In the 11 a.m. hour, prosecutors called their first witness to the stand.
It was a deputy with the Greene County Sheriff's Office who first responded to the scene.
Jurors also were able to look at pictures taken by detectives inside the home where she died.
After lunch, prosecutors began playing Godejohn's videotaped confession.
In it, he admitted stabbing Dee Dee to death.
He told investigators that he stabbed her for what felt like five minutes.
Afterwards, he says he and Gypsy had sex.
Then, Gypsy cleaned up the crime scene.
Godejohn says it was Gypsy's idea to mail the knife he used back to Wisconsin.