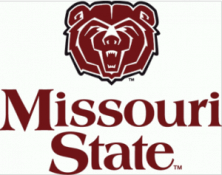 The MSU Lady Bears' upset bid over the nationally ranked Missouri Tigers came up just short Tuesday night. Here's the recap from Missouri State Athletics:
The Missouri State Lady Bears went toe-to-toe with 14th-ranked Missouri Tuesday evening at Mizzou Arena, nearly overcoming a 15-point deficit with stingy second-half defense in a 65-61 setback.
After the Tigers (2-0) closed the first half on a 19-2 run to lead 40-25, the Lady Bears (0-2) put the defensive clamps on the home team, keeping MU without a field goal for nearly 15 minutes and holding the Tigers to 21 percent shooting in the final 20 minutes.
Brice Calip scored six points of an 8-0 MSU run to begin the second half, hitting a 3-pointer with 5:15 on the clock for a 40-33 deficit. Neither team made a field goal for the remainder of the quarter, as the Lady Bears held the Tigers to 0-for-12 from the floor in the period and three total points to close the gap to 43-38 after 30 minutes of action.
Danielle Gitzen took over in the fourth period, scoring all 16 of her points in the final 10 minutes and tying the game at 49-all with a 3-pointer at the 5:03 mark. The senior scored again with 3:15 left for 51-51, but the Tigers responded with a 6-0 run to lead 57-51 with 50 seconds left.
MSU continued to make big shots in the comeback bid, with Sydney Manning hitting from long range to cap her 11-point night at a 59-56 score with 21.7 seconds left, and Gitzen hitting another trey for 62-59 with nine seconds remaining. But the Tigers were able to hit enough free throws, going 12-for-16 in the fourth quarter, to hang on for the win.
It was tied at 11 after a sluggish offensive first quarter on both sides, and MSU gained its first lead at 21-19 with 7:16 before halftime on an Elle Ruffridge 3-pointer after freshmen scored the team's first 18 points. It was 23-21 MSU with 6:34 left before MU's closing 19-2 run.
Freshmen totaled 29 points and 20 rebounds for MSU in the game, with Jasmine Franklin grabbing a team-high seven rebounds, Mya Bhinhar [missouristatebears.com] leading with two steals and Sydney Wilson leading with two assists.
Missouri State owned a 41-35 rebounding lead and grabbed 14 offensive boards. MSU shot 36.5 percent overall and 39 percent from long range while holding the Tigers to 3-for-21 from distance.
The Lady Bears return to action Saturday at 2 p.m. when they host Ball State (1-1) at JQH Arena.
(Information provided by Missouri State University)