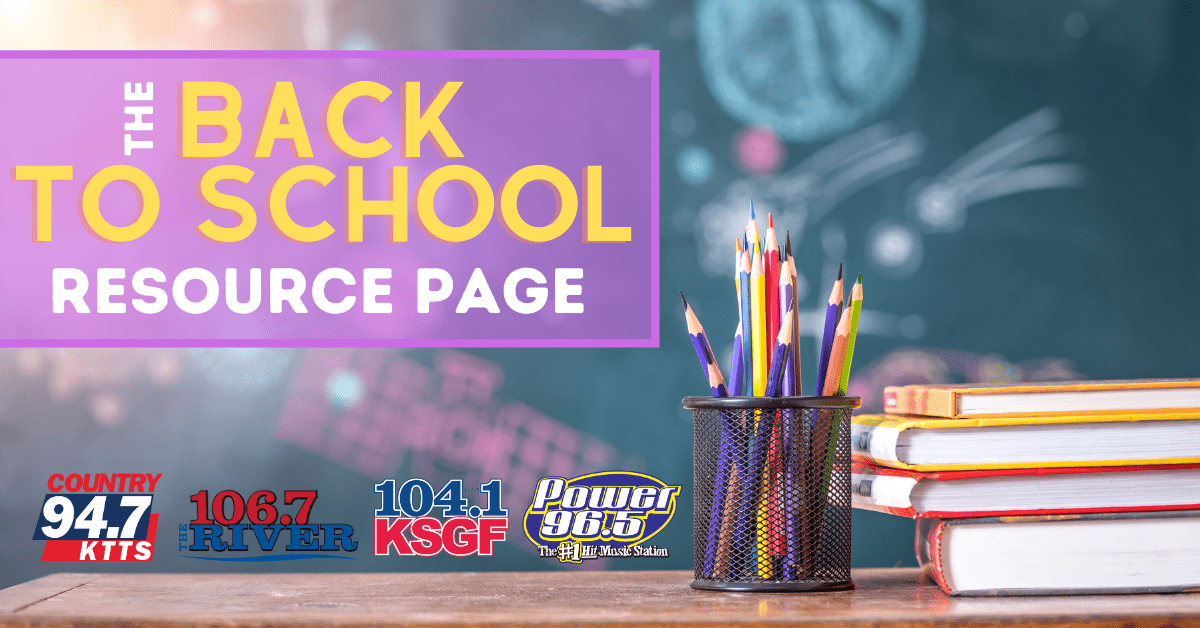 2020 has become the year of questions, especially when it comes to our children's schooling.
Right now there are A LOT of options for students and parents when it comes to the 2020 – 2021 school year.
Will your student be attending school at home? Will they be going to class part-time? Will they be taking all of their courses online? No two households will be approaching the school year in the same way.
At Country 94.7 KTTS we know how important structure and routine can be when it comes to a child's education. This is why we want to make finding options for your child's schooling even easier with the Back To School Resource Page.
This page has been designed to simplify the process of finding educational resources here in the 417! Use the list below (once we have educators' information to provide) to find local educational programs, tutors, and child-care providers that are a good fit for your family.
Are you an educator? Thank you so much for everything you do in teaching and guiding our youth!
If you're a qualified and licensed educator, tutor, or child-care provider that is interested in posting your information on our page, please fill out our form/ questionnaire when you CLICK HERE!
We will post your information below. if you have any questions or concerns, feel free to contact us via email at hewson.beattie.summit@gmail.com.
Thank you from everyone at Country 94.7 KTTS! Let's work together and keep the Ozarks Strong!
Our Local Educators:
Adina Perkins – Adina Perkins has a Bachelor's Degree in elementary education, with certifications in early childhood, elementary, and special education. Adina offers virtual and in-person tutoring. For more information send Adina an email today!
Club Z! In-Home Tutoring – In-home, virtual, and POD academic tutoring! All tutors have a college degree and most are educators. For more info visit them online or send them and email today!
Contender eSports Springfield – Contender eSports Springfield is providing an alternative location for students to attend and complete their virtual school requirements. More details and information can be found online or when you send them an email today!
East Grand Community Services – We provide before and after school care, as well as offer all day care for students at Bingham and Pittman Elementary Schools. We will assist students with their virtual learning on the three days they are online and can provide child care and transportation to and from school on the two days they go to school. For more info visit them online or send them an email today!
Emily Kavanaugh – Offers virtual tutoring for students pre- K – 12th grade. In-person tutoring can be arranged after speaking. Emily is a Missouri Certified Teacher in birth-6th grades; emphasis in early childhood; taught for Springfield Public Schools; has a B.S. in elementary education; flexible schedule. For more information send Emily an email today!
Hope Homeschool Academy – A private, Christian, hybrid home-school, operating two days a week. For more info visit them online or send them an email today!
Kathy Carroll – Kathy Carrol provides virtual tutoring. Kathy's expertise is in the biological sciences and lower level math. But also offers tutoring for other subjects in the elementary and junior high grade levels. Kathy has taught at the College/ University level for over 24 years. For more information send Kathy an email today!
Laurie Mertens-Price – Laurie Mertens-Price offers tutoring in mathematics for 6th graders – 10th graders. She has teaching certifications in middle school math and science. She has a masters degree in special education. She has been tutoring middle and high school students for the past 15 years. For more information send Laurie an email today!
Peapod Learning Center – The Peapod Learning Center is a licensed, accredited, nature preschool. They provide a high-quality curriculum within a safe and nurturing environment. For more info visit them online or send them an email today!
Tutoring Done Right with Christine Morton – Christine Morton offers tutoring in English, Reading, Writing, Spanish & Communications. Christine has a Bachelors Degree in Secondary Education and Spanish with a Minor in English. She also has a Masters Degree in Broadcast and Digital Journalism. For more info visit her online or send an email today!