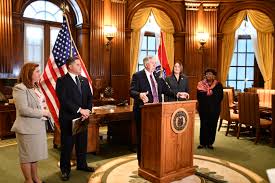 Governor Mike Parson briefed Capitol reporters on Friday afternoon, and announced he will release his plan to combat gun violence in a week.
During the speech he said that he spent time speaking with leaders in St. Louis and the local area. He says the meeting was not a summit. Parson expressed sympathy and related his own experience in Law Enforcement and how he had lost his brother in law to the line of duty.
Governor Parson dismissed the comments made by House Democratic Leader Crystal Quade on his willingness to address gun violence.
He says that he does not equate gun violence with  the car sales tax issue and that he expects the solution to involve multiple levels of government.