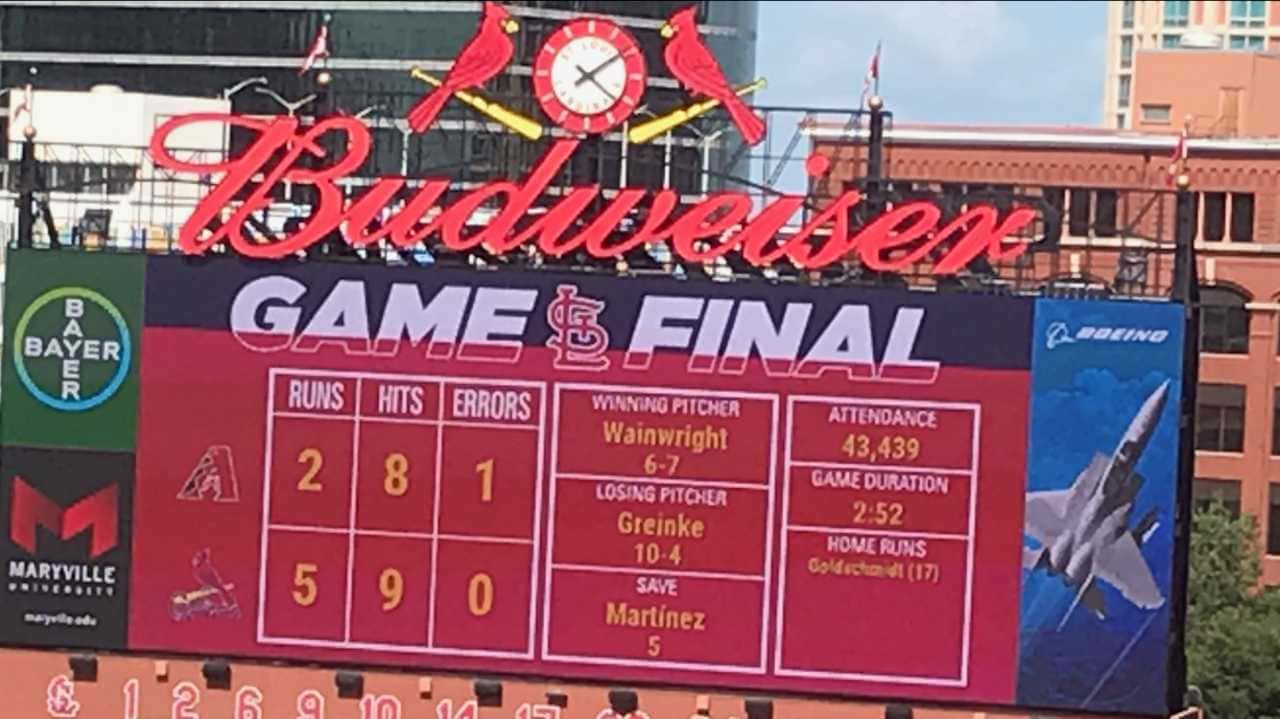 The St. Louis Cardinals got seven scoreless innings from starter Adam Wainwright and held on to beat the Arizona Diamondbacks 5-2 Sunday afternoon at Busch Stadium.
The Diamondbacks managed to score two runs in the ninth off reliever John Brebbia before Carlos Martinez came in to get the final out with the based loaded and pick up his fifth save of the season.
Wainwright (6-7), who missed a scheduled start on Friday due to back spasms,  scattered four hits, walking one and striking out seven.
"I really want to pitch well for this team," Wainwright said. "I knew we were all fresh coming after the break. I knew Ponce was ready. I knew it wasn't serious and I knew if we waited a couple of days, listened to the training staff, that we were going to be in real good shape."
Wainwright says he's very confident on the mound right now. "I've just got to not be satisfied and keep going. There's still some things I can do better."
The Cardinals jumped on Diamondbacks ace Zack Greinke (10-4) early as Tyler O'Neill's double down the left field line in the first plated Paul Goldschmidt, giving St. Louis 1-0 lead.
In the third, shortstop Yairo Munoz singled home Adam Wainwright, who walked to lead off the inning, increasing the Cards lead to 2-0.
Goldschmidt sent a pitch from Greinke sailing down the line in left, hitting the foul pole for his 17th home run  of the season and making it a 4-0 game.
"It was a good swing. I was able to hit it and get it out of there," Goldschmidt said. "The other ones haven't felt bad either. They've been close and just weren't able to get the results. Just try to keep having good at-bats and hit the ball hard and just try to help us win."
Matt Carpenter's sac fly in the fourth plated Harrison Bader, who led off the inning with a double, giving St. Louis its fifth run of the game.
Greinke, who came into the game with a 2,73 ERA, gave up five earned runs on eight hits in six innings, walking one and striking out six.
The Cardinals, who improve to 46-45 on the season, open a three game series against the Pittsburgh Pirates Monday night at Busch Stadium, sending Miles Mikolas (5-9, 4.53 ERA) to the mound.
Joe Musgrove (6-7, 4.15 ERA) is scheduled to make the start for the Pirates.
Game Notes: 
Arizona Diamondbacks at St. Louis Cardinals 7-14-19