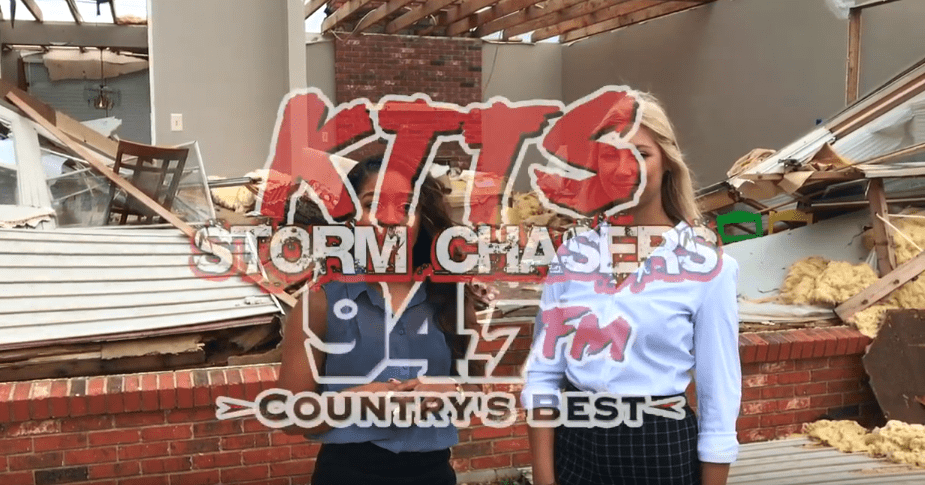 Everyone in the Ozarks knows the weather here can be a little unpredictable. This severe weather season has been no different.
As many as 40 tornadoes have touched down in the Missouri Ozarks this spring, causing major damage, destroying homes and buildings and even killing some in our community.
At KTTS, our main priority is to keep you and your family safe. We are dedicated to tracking storms and alerting you when there's any chance of a tornado to touch down in your area.
Our job is to keep you informed, and it's our listeners' job to be prepared and know when and where to take shelter when a tornado warning is issued.
It is important to know where your local FEMA Storm Shelters are located. There's dozens across the Ozarks and the National Weather Service says they are the absolute best place to go during a tornado warning.
The KTTS Storm Chasers have created an interactive Google Map that pin-points exact location of nearly every FEMA Safe Room in southwest Missouri.
It's also a good idea to invest in a battery-operated radio and/or a NOAA weather radio and have extra batteries handy. In the event of a power outage, these can be your last line of defense in getting information from KTTS and the National Weather Service.
Whether you're at work, at home or in the car, always have KTTS on an up when severe weather is approaching in order to stay up-to-date with the latest watches and warnings. The KTTS Storm Chasers will be live with up-to-the-minute information on where the storm is, where it's heading next, and what hazards that come with it.
If a tornado warning is issued when you are in your home or at work:
Go to the basement or lowest floor of the building.
Avoid open spaces and flying debris by taking shelter in an interior windowless room.

Closet, bathroom or hallway

Cover yourself in coats, blankets and any other material that will protect you from debris.
And if you see a funnel cloud or tornado when you are on the road:
Try to drive to a nearby storm shelter, but never drive towards the storm to get there.
Instead, pull over and get out of your car.
Find a ditch or a low-lying area and lay down.
Remember, never take shelter under a bridge or overpass

The structure and high winds create a deadly wind tunnel effect
Below is a copy of our KTTS Storm Chasers Tornado Tips. To download a printable version, click here.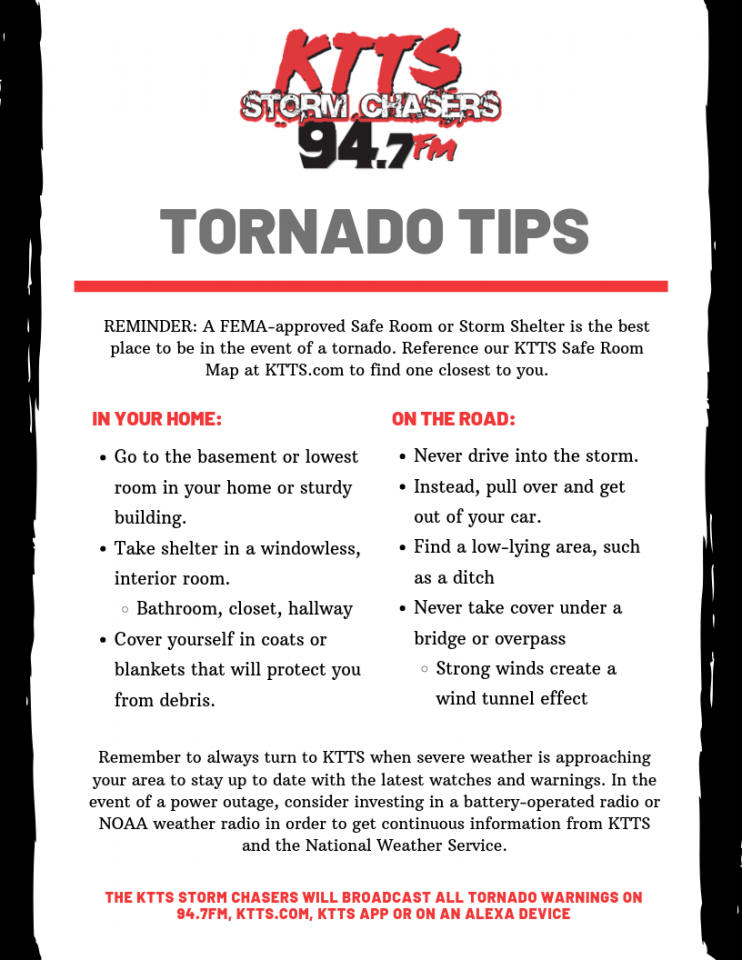 In the event of a tornado warning being issued in the Springfield-metro area, KTTS will have wall-to-wall coverage on all of our SummitMedia stations until the threat moves out. You will be able to hear the KTTS Storm Chasers live on 94.7, as well as KSPW Power 96.5, KRVI 106.7 The River, and KSGF 104.1 Springfield's Newstalk.
You can also listen to our on-air coverage live using an Alexa device, or stay-up-to date with watches and warnings, the KTTS Interactive Radar, and the photos of the damage at KTTS.com and on the KTTS App.