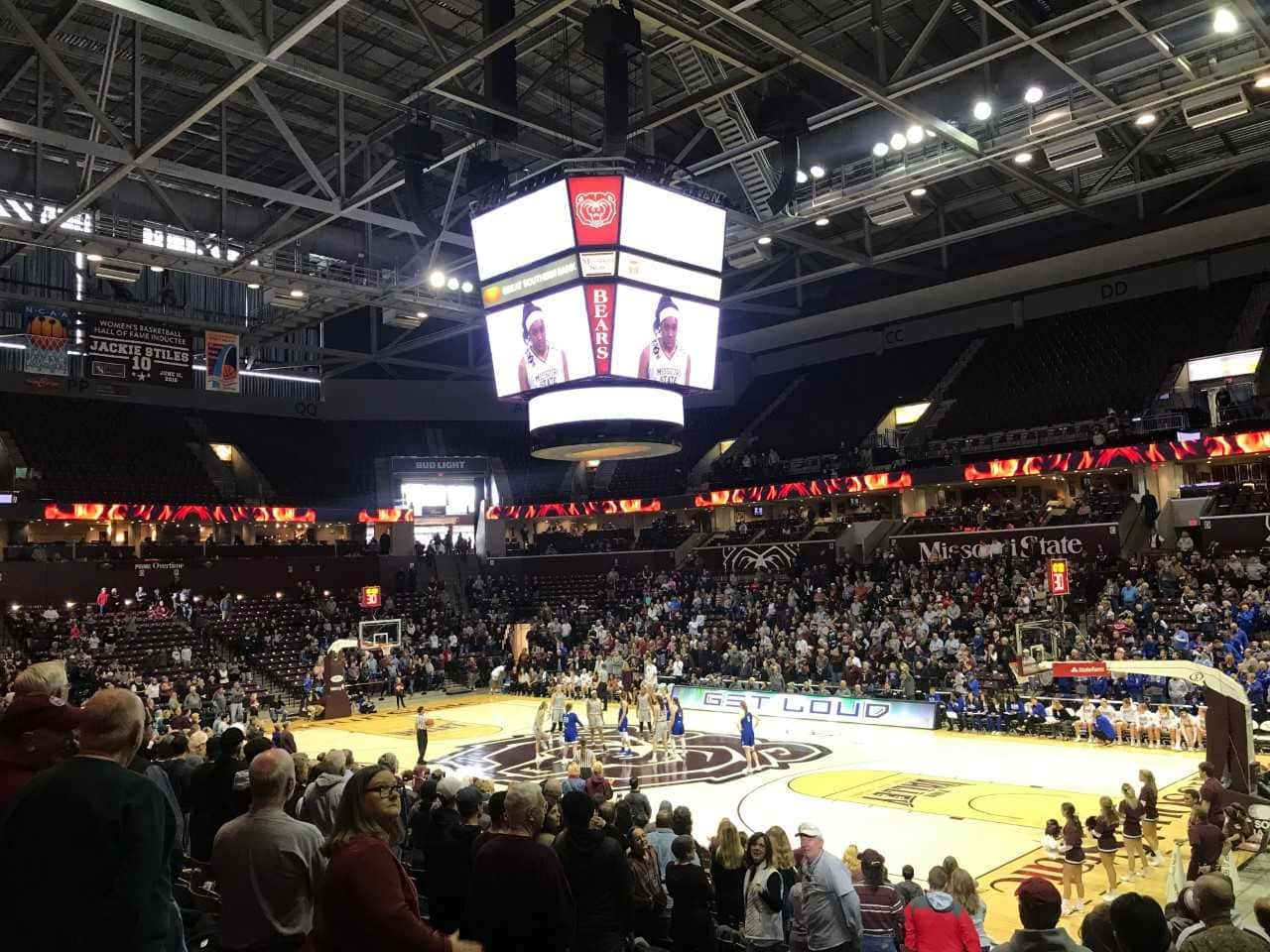 The Drake Bulldogs jumped out to a 21 point lead, then withstood a furious Missouri State comeback attempt to defeat the Lady Bears 70-61 Sunday afternoon at JQH Arena.
The win gives Drake sole possession of first place in the Missouri Valley Conference with two games to play.
The Bulldogs, who never trailed, got out of the gates quickly with a 10-2 lead less than three minutes into the contest and taking a 22-11 lead after one quarter.
Drake continued to extend its margin in the second period, taking a commanding 41-23 lead at the half as MSU shot just 29% from the field in the opening 20 minutes.
But on Senior Day, the Danielle Gitzen-led home team would not give in to the nation's 23rd ranked Bulldogs.
MSU pulled within ten late in the third quarter, then continued to chip away in the final period.
When Emily Gartner hit one of two free throw attempts with 1:09 left in regulation, the Lady Bears had pulled within four, 63-59,
Gitzen missed a jumper with 39 seconds left that would have cut the margin to two.
After Drake got two free throws from Brenni Rose with 35 seconds left, Brice Calip hit a shot with 30 seconds to go to make it a 65-61 game.
But the Bulldogs made five of six free throw attempts in the final 25 seconds to hold on for the win.
Calip's 17 points led the way for the Lady Bears, with Gitzen putting in 13 and Alexa Willard ten.
Sara Rhine led three Bulldogs in double figure scoring with 19 points, followed by Sammie Bachrodt with 17 and Becca Hittner with 15 points and 12 rebounds.
The Lady Bears shot just 33% from the field (21-64) and hit only one of 17 three point attempts.
Drake connected on six treys, stopping several Missouri State runs with a shot from long distance.
The Bulldogs out-rebounded the Lady Bears 38-36, while MSU won the battle from the free throw line, hitting 18 of 21 attempts to Drake's 16 of 23.
It was a day of mixed emotions for Missouri State's lone senior. "There's excitement, obviously sad a little bit," Gitzen said. "Obviously there was a big game at hand, so I was kind of more focused on that. And it's not the last time we're playing this season. We're going to be playing plenty more games. So it's nice being recognized for playing four years, but the season's not over."
Gitzen says she's proud of her teammates. "As a team, we have a lot of grit and we're competitive. We don't want to lose. Losing it not fun. We want to win and whoever we're playing, we're coming out fighting. We want to win."
Coach Kellie Harper gives credit to the Bulldogs. "I hate to come up short, but it's a really, really good basketball team we just played. I think you could see there in the first half how good they can be."
But Harper says despite digging a big hole, she's proud of her team for coming back. "At halftime, I told our players they had two options: they can either fold or they could fight it. They made a statement there I thought. They came back out and played hard, gave us a chance. We got ourselves back in it. Hopefully we can learn from it and be better."
Drake improves to 23-5 overall, 15-1 in the Valley, while the Lady Bears drop to 18-9, 14-2.
MSU, which has clinched no worse than second place in the Valley, will hit the road for its final two games of the regular season, playing at Evansville Thursday night at 6:00 p.m. and at Indiana State Saturday afternoon at 1:00.
Drake vs. MSU Lady Bears 3-3-19
Game Notes: 
Sunday's announced attendance of 3,827 was the largest crowd of the season to see a Lady Bears game at JQH Arena.
Gitzen is one of eight players in school history with at least 800 points, 400 rebounds, 250 assists and 150 steals.
Drake is 55-1 in its last 56 regular season Missouri Valley Conference games.
The Lady Bears are now 9-16 against nationally ranked opponents at home.