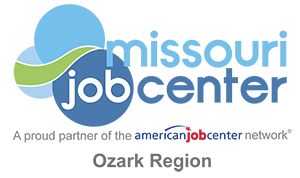 More than 40 companies in the region will participate in the Missouri Job Center's first big hiring event of the year on January 22, from 3:00 – 6:00 pm. The event will be held at the Missouri Job Center, 2900 E. Sunshine, in Springfield.
While attending the hiring event, job seekers may also visit the Skill Up Information Fair. Attendees can talk to local higher education and trade schools to see how they may qualify for free training scholarships for short-term training programs in industries with high demand for skilled workers.
"We are excited to add the Skill Up Information Fair component to the hiring event," said Jamie Moss, Senior Workforce Specialist with the Missouri Job Center. These are short-term trainings offered in high growth industries such as healthcare, manufacturing, transportation, IT and construction. Participants can be working in a matter of weeks or months, Moss said.
At the hiring event, there will be representatives from area companies available to answer questions about job openings at their companies. Attendees should dress appropriately and bring copies of their resume if possible.
For information about the event, please contact Katherine Trombetta at 417-841-3389 or ktrombetta@springfieldmo.gov.
Participating Companies:
Americare Senior Living
AmProd Holdings
Arc of the Ozarks
Braums
Branson Travel Group
Brokate Janitorial
Burrell Behavioral Health
Check n Go
Cintas
Citizens Memorial Hospital
CNH Reman
CoxHealth
Easy Living
Expedia Group
Fishel Pools
Great Southern Bank
Greene County
Haven Health Care
Human Resource Staffing
Integrity Home Care + Hospice
Kindred at Home Community Care
Mister Car Wash
Modern Woodmen of America
Oasis Hotel & Convention Center
Oxford Healthcare
Peoplelink Staffing Solutions
Phoenix Home Care
Piercing Pagoda
Poor Boy Tree Service
QPS Employment Group
Rivermonte Memorial Gardens
Service Systems Associates
Silver Dollar City
Springfield Public Schools
Staffing Plus
Synergy Recovery Center
Tiger Correctional Services
Transworld Systems Inc.
Trugreen Lawn Care
TTEC
Webco Manor
WestRock
Wyndham Destinations