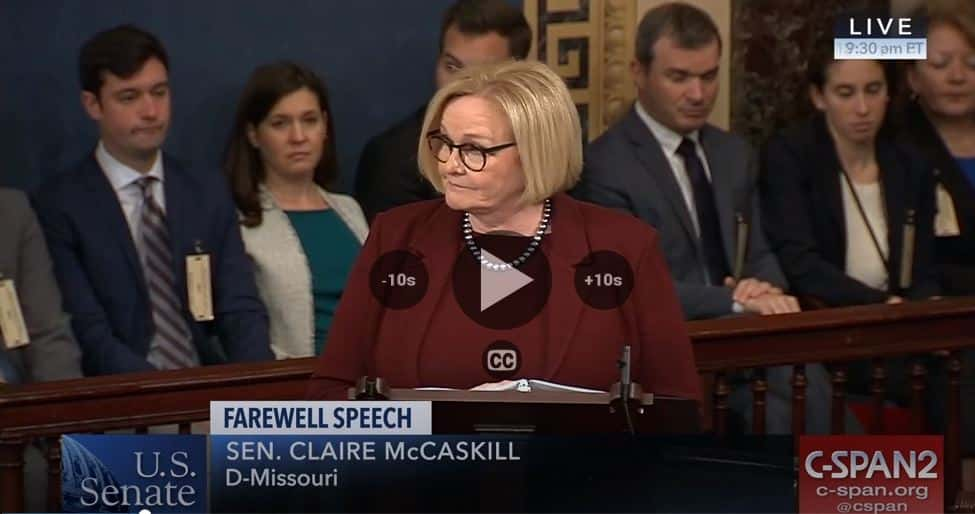 Missouri Senator Claire McCaskill said goodbye on the Senate floor this morning.
But not before calling out her fellow lawmakers – saying the Senate is broken.
"The United States Senate is no longer the world's greatest deliberative body. And everybody needs to quit saying it until we recover from this period of polarization and the fear of the political consequences of tough votes."
She warned her fellow lawmakers that power in the Senate has become too centralized – with only a few people making all the decisions.
"We have to throw off the shackles of careful, open the doors of debate, reclaim the power of members and committees, and most of all realize that looking the other way and hoping that everything will work out later is a foolish idea."
She told senators that it's time to take a hard look at themselves.
Something is broken. And if we don't have the strength to look in the mirror and fix it, the American people are going to grow more and more cynical and they might do something like elect a reality TV star President. I'm not kidding. That's one of the reasons this has happened.
McCaskill lost to Attorney General Josh Hawley in November.
Hawley will be sworn in to office in January.