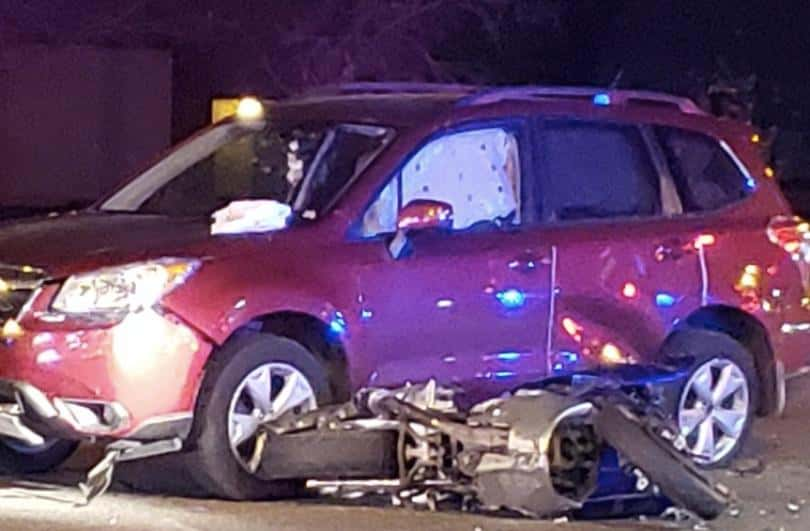 Photo courtesy of KY3
UPDATE: Springfield Police have identified the driver of a motorcycle who died after running a red light at Chestnut Expressway and Main Monday night, slamming into an  SUV.
Officers say Bruce Compton from Battlefield, who was 36, died at the scene.
Springfield Police Investigate Fatal Motorcycle Crash
At 8:07 P.M. on November 26, 2018, officers from the Springfield Police Department witnessed a crash in the intersection of Chestnut Expressway and Main.
MORE: https://t.co/U55upXVa1t

— Springfield PD (@SGFPolice) November 27, 2018
ORIGINAL STORY: Police in Springfield are working a deadly crash involving an SUV and a motorcycle downtown.
Officers responded to the crash at the intersection of Main and Chestnut Expressway around 8 p.m.
Lieutenant Mike Lucas says the motorcyclist ran a red light and crashed into the side of the SUV. The motorcyclist died. Police have yet to identify the victim.
The driver of the SUV did not suffer any serious injuries.
Lieutenant Lucas says a witness told officers the motorcyclist was driving erratically before the crash. An officer in the area spotted the bike.
When the officer tried to stop the motorcyclist he sped away. The officer did not pursue.
Police closed the westbound lanes of Chestnut during the investigation.