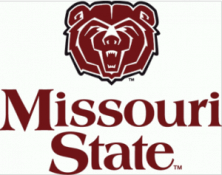 MURRAY, Ky. – Murray State's Ja Morant scored a game-high 29 points as part of a triple-double effort to lead the Racers past visiting Missouri State, 77-66, here Saturday.
Morant also snagged a game-high 13 rebounds, dished out 12 assists and knocked down six treys for the home-standing Racers (3-0).
Jarred Dixon scored 18 points to lead four Missouri State players in double figures. The Bears (3-3) also got 15 points and nine rebounds from Obediah Church, 11 points from Kabir Mohammed and 10 by Josh Webster who also handed out seven assists.
In his Missouri State debut, Tulio Da Silva played 30 minutes in a reserve role and scored seven points while grabbing a team-high 11 rebounds.
Murray State jumped out to a 20-6 lead in the first seven-and-a-half minutes of the game, making six of its first seven shots and getting eight points out of the gates from Shaq Buchanan to set a blistering pace. Buchanan finished with 20 points for the Racers.
The Bears settled in midway through the opening stanza, getting a layup from Keandre Cook to end a four-minute scoring drought, before buckets by Dixon and Church got the visitors within 24-14.
The Racers' early aggressiveness got them into foul trouble later in the first half, putting the Bears on the line 15 times in the first 20 minutes. Dixon went 4-for-4 from the stripe and later ignited a 7-0 outburst from Missouri State that got coach Dana Ford's squad within 29-22 with just over two minutes to play in the half.
The Racers, however, ended the first half on a 6-3 run, including their third trey of the period, to regain a double-figure advantage, 35-25, at the midway point – Missouri State's lowest-scoring half of the season.
Early in the second half, a free throw by Da Silva and a 3-pointer by Dixon, Missouri State's only triple of the night, got MSU within 35-29. But Murray exploded with three dunks by three different players and a trey by Tevin Brown over the next two minutes to retake a 15-point advantage.
The visitors didn't shy away down the stretch, and when Mohammed reeled off eight of 10 Missouri State points over a three-minute stretch late in the game, it ignited the Missouri State seniors on the floor.
Webster made it a 10-point game with 4:38 to play, and then Dixon scored twice from there, including a transition bucket that made it 64-58 and forced Murray State into a timeout at the 3:48 mark.
Out of the timeout, Morant buried 3-pointers on back-to-back possessions to put it out of reach, and the Bears dropped their third game in a row.
Missouri State shot 42.9 percent on 24-of-56 from the field, but just 1-of-16 (.063) from bonus distance while leaving points at the stripe on 17-of-28 (.607) free throws.
Murray State was 25-for-55 (.455) from the field and 9-of-27 (.333) from 3-point range. The Racers narrowly out-rebounded the Bears, 36-34, and made 18-of-22 (.818) foul shots.
The Bears return to the road Wednesday at Air Force (2-4) in the annual Mountain West-Missouri Valley Conference Challenge series game. MSU then concludes its three-game road swing at Oregon State on Dec. 1.
Courtesy of : Missouri State Athletics Communications