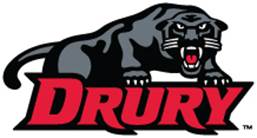 SPRINGFIELD, Mo.— The Drury Panthers bounced back from a disappointing opening day loss in the DoubleTree Thanksgiving Classic to claim a 78-53 win over the Jets of Newman Saturday afternoon at the O'Reilly Family Event Center.
Senior guard Allen Billinger came off the bench to score a season-high 19 points and hitting on 7 of 11 field goal attempts to pace the Panthers offensive attack as Drury improved their season mark to 4-4.
"When you see the ball go in the basket, it gives you more energy, and I thought Allen did a nice job and made some big buckets for us, and he played his best game offensively since he's been here," said Steve Hesser, Drury head coach.
Drury took advantage of a poor Newman shooting performance (6 of 30, 20%) in the opening twenty minutes of play and grabbed control of the contest, leading 34-18 at the break. They then outscored the visitors 20-8 to open the second half, stretching their lead to 28 points before a 15-5 run by the Jets momentarily trimmed the margin back to 18 with less than eight minutes to play. Drury pushed the margin back to 30 moments later before closing with the final margin of 25.
"When the ball isn't going it for you it can be tough, but then when the ball does drop, well, that's the thing about basketball, can you play at a high level when it doesn't," added Hesser.
Sophomore Conley Garrison had 16, and senior Doug Moore added 12 for the Panthers. Marshawn Blackmon paced the scoring effort for the Jets (4-3), finishing with 16. For the game, Drury hit on 47 percent of their shot attempts (30 for 64), while Newman closed at 31 percent on 18 of 59 shots.
The Panthers won the battle of the boards with a lopsided advantage of 49 to 28 with junior Andrew Bullock pulling down a game-high eight. Drury finished a perfect 11 for 11 from the free throw line as well.
Billinger and Garrison were both named to the All-Classic Team along with Blackmon, as well as Joe Smoldt and Chris Olson both of Upper Iowa, with Olson being named the event's Most Valuable Player.
The Panthers return to action on Saturday, December 1st, when they open Great Lakes Valley Conference play hosting Missouri S&T in a 3 p.m. contest at the O'Reilly Family Event Center.
Courtesy of: Drury University Athletics