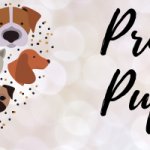 The 10th Annual Project Puppy Gala will be held on Saturday, October 6th at the Ramada Plaza Hotel & Oasis Convention Center. This is the Killuminati Foundation's largest fundraiser of the year.
Get dolled up for this dinner, dance, silent auction, and live auction. They put a twist on traditional fundraising event by featuring locally rescued dogs struttin' down the runway in custom designed outfits (all the dogs in the show are available for adoption and looking for their forever familes). It's like Project Runway meets Killuminati! Last year, they had over 300 guests and raised thousands of dollars to help dogs suffering from serious medical issues.
At Project Puppy, they also get to recognize people in the animal community and show our appreciation. We will take nominations from the public for the following awards — Business of the Year, Volunteer of the Year, Veterinary Office of the Year, and Rescue Story of the Year. They will also recognize someone in the community for the Hamaker Lifetime Achievement Award. The community will decide the winners through online voting, and winners will be announced at Project Puppy.
Project Puppy tickets are $40 per person or $350 for a table of ten. To register, click here.