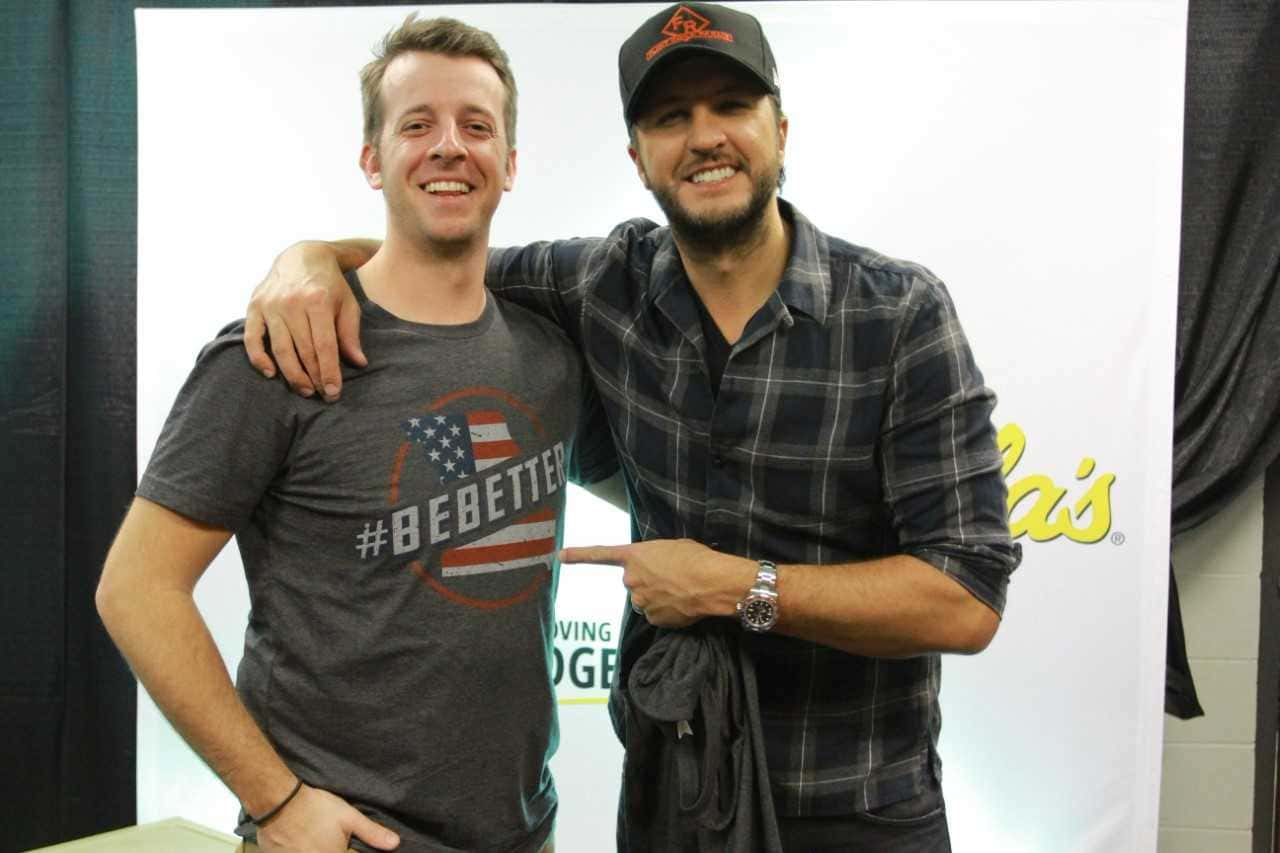 I had some homework while at the Luke Bryan concert. Since it was the first show of his tour, a radio industry website was interested to know what to expect. So, I took notes.
The following are my raw notes. The grammar should be decent, but instead of checking it over, I've decided to keep it raw. Mainly because lazy. Anyway, here's my timeline of events:
Lights flicker, then go out and it's time for Luke. Lights drop in. He rises from the stage at the end of the catwalk. "Hunting. Fishing, Loving Everyday" is the opener. Just him and a guitar to be seen. Band behind the curtain. Green lights wave through the arena.
Curtain drops as "I Don't Want this Night to End" starts. Hat turned backwards and he loses guitar.
Huge screen behind band showing video to go with the song. 2 smaller screens with live video to each side of the stage in the rafters.
Will have to be cut out of the tight jeans. It's like the time Kramer wore jeans for the first time in a long time in 'Seinfeld'.
Loses flannel, gains beer as cooler shows up on stage. He tosses some in the crowd while singing "All My Friends Say". Ended it by tapping beers with a fan and taking a swig. Then spewed beer from the can on the audience.
Lights go down as he slows things down with "Light it Up". Ladies swoon, obvi.
Guitar back in hand. Back on main stage. Singing "Someone Else Calling You Baby".
Update: Girls still swooning.
Sings "Kiss Tomorrow Goodbye". It's somehow about every girl in the arena, according to them. Moves hips. Girls somehow screamed louder.
Music stops for first time as he says "hello". Acknowledges that The Cadillac Three drink more beer than him.
Starts music back up with his latest hit: "Most People Are Good".
Stops to talk to lead into "What Makes You Country". Electric guitar now in hand. Pyrotechnics are now part of the show, as fire shoots up from the stage throughout the song.
Rolls right into "Kick the Dust Up" and heads down the catwalk, while sharing the mic with the crowd to help with the singing. Shakes hips. More screaming.
Note: He admitted backstage before the show that he wasn't in concert shape yet. Might contribute to limited dancing. Makes every hip move more special.
"Strip it Down" comes on next. Girls were close to thinking it was a command.
Piano comes in strong and leads into some acapella finale to the song.
Lights on lead guitar player who plays the intro for "Drunk on You".
Stops to talk. Teases "favorite party song of all time", then starts singing Neil Diamond's "Sweet Caroline". Crowd is way into it. They love the chance to respond with "bump, bump, bump" and "so good, so good, so good".
Jeans? Somehow tighter.
Now admits to only drinking beer and hunting deer in the off-season. Confirms that he's out of touring shape. "I hate working out. It sucks. I workout, so I can drink more beer. My equation is a little off." Longest stop down from music.
Says he's looking for a party crasher. I bet you can't bet what song is next. Still spends time on the second stage at the end of the catwalk as he sings "Crash my party". Wraps it up with him, the crowd and a mic.
Now just him and a guitar. Spotlight on Luke at the 2nd stage. Strips it down (not the song) for "Drink a Beer".
After being by himself for the first part of "Roller Coaster", the band joins him for the song.
Lights go down as he heads back to stage for "Play it Again".
Gets party going with "Move".
Rolls right into "Rain is a Good Thing".
Encore
Comes back on stage singing "Country Girl (Shake It)"… And they shake it. What Luke wants, he gets.
Wrapped it up with "That's My Kind of Night". Was trying to celebrate with the crowd by handing out beer. Instead, he got hit with a beer right…. Well, where he'd rather not get hit. He replied with the "Damn!".